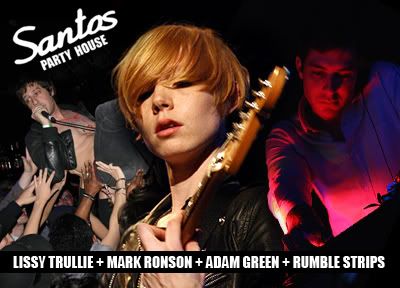 Remember that song "Kokomo" by the Beach Boys? Of course you do, you were probably born in the 80's. You were also probably too young to go see Tom Cruise in Cocktail but I'd bet good money that you owned the single, if not the soundtrack.
I'm pretty sure
Adam Green
had both because he sang Kokomo at least 4 times Monday night at Santos after
Lissy Trullie
's beautiful set. He also sang his mambo rendition of "Happy Birthday " an equal number of times to people in the crowd who swore it was their birthdays.
Rumple Strips opened to a full crowd. They sounded so good that if they were Britney Spears I would have assumed they were miming to a record. 
But back to Lissy, who played a brilliant set. Yes, kids, she really is hipper than hip. So hip in fact that there probably isn't even a word for it. She had the crowd in her hands though her carefree and calm demeanor suggested she wasn't even aware of the fact. Gotta love her.
Mark Ronson
 manned the decks during the after party while
Kirsten Dunst
shuffled between the upstairs lounge and the dance floor.
xo