MUSICKA MYSTICA MAXIMA FESTIVAL
SEPTEMBER 21-22, 2009

SANTOS PARTY HOUSE
96 Lafayette St
New York, NY 10013
TWO DAY PASSES HERE
Doors at 7pm both dates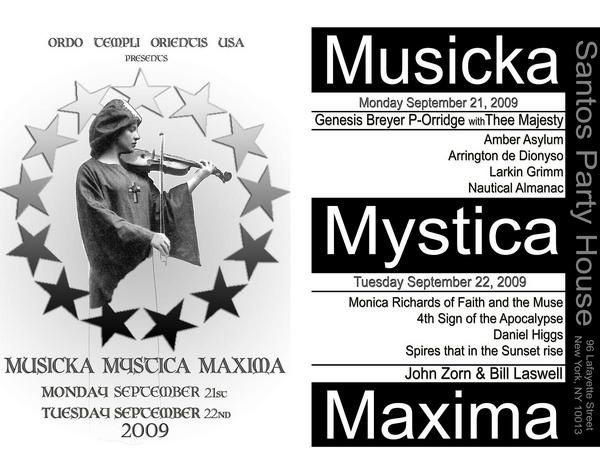 Musicka Mystica Maxima festival presented by Ordo Templi Orientis U.S.A.
Two nights of Musick made by practicing magicians or practicing musicians who's work celebrates the Magical lifestyle, as well public performances of Ceremonial and other Magick ritual.
9/21 DAY ONE
–
TICKETS
GENESIS BREYER P-ORRDIGE with THEE MAJESTY (Bryin Dall & Morrison Edley)
Singer, multi-instrumentalist, spoken work artist and philosopher Genesis Breyer P-Orridge has been one of the most recognizable figures of fringe music since the the 70's. She is a core member of industrial noise pioneer band Throbbing Gristle, as well as the punk wave outfit Psychic TV and now Thee Majesty, the ensemble that combines punk, noise and P-Orridge's spoken word contributions.
Genesis Breyer P-Orridge homepage
AMBER ASYLUM
Kris Force unites with various allies in the gothic world (members of Neurosis, Hammers of Misfortune, Weakling and Giant Squid), to create a symphonic ambience that is misanthropically dark. Driven by cello and violin as well as haunting vocals, the music is a folkloric take on neoclassical post rock.
Amber Asylum on Myspace
ARRINGTON DE DIONYSO
A sound sculptor who has a particular mastery of the woodwinds and human larynx, Arrington de Dionyso's manifests multiple eccentric concepts and frameworks for improvisation. His main tools are jagged assaults at free jazz instrumentation, twisted throat singing and a combination of the two. He liberally incorporates avant garde dancing, homespun instruments and props.
Arrington de Dionyso on Myspace
LARKIN GRIMM
The Applachian daughter of cult-member parents creates music that is rife with psychic energy and the urge to return to the primal. Deftly picked strings that invoke the tambours of country folk mixing with a haunting vocal and the incursion of chillingly dark electronic sounds are the hallmarks of her sound.
Larkin Grimm on Myspace
NAUTICAL ALMANAC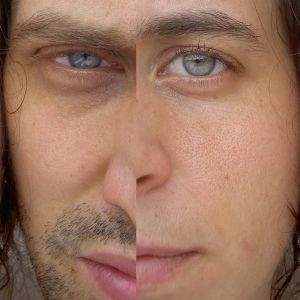 Currently waving the banner for Baltimore noise is the duo Twig Harper and Carly Ptak, both visual artists and the taylors of electronic contraptions and music that's about as horrifically uplifting as can make sense. They create experimental noise that nods to metal, minimal techno, jazz and punk. No strangers to concept either, their '98 album Rooting for Microbes employed no electricity in the creation of sound. They have collaborated with Andrew W.K., Wolf Eyes, Nate Young and more.
Harper and Ptak Homepage
DAY TWO –
TICKETS
MONICA RICHARDS (of Faith and the Muse)Poet, painter and philosopher Monica Richards just happens to be a punk veteran from the DC wells from which sprang Bad Brains and Minor Threat. In the early 90's her notoriety grew with Faith and the Muse, her duo project with William Faith, which incorporated her punk roots along with electronic music, experimentalism, jazz, art music, folk along with the songwriting sensibilities of pop. Her solo music continues in this direction, with a tendency towards the multi-media.
Monica Richards homepage
4TH SIGN OF THE APOCALYPSE
By using no wave post rock as a foundation, 4Th Sign of the Apocalypse inhabits the realm of stark experimentalism. The portentous sound of grooves bereft of vapid joy and unconventional instrumentation results in a sound that uses the power of uncertainty to fill in the space.
4th Sign of the Apocalypse homepage
DANIEL HIGGS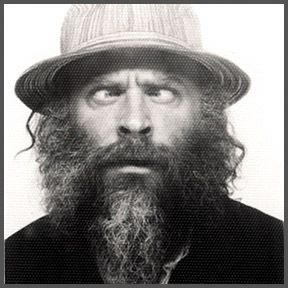 Daniel Higgs, formerly of Reptile House and the post-punk pioneers Lungfish, has become a cult figure for spiritually jarring folk music. His pulsing riffs on his long-neck banjo invoke the stark loneliness of Americana and the ethereality of East Asia.
Daniel Higgs homepage
SPIRES THAT IN THE SUNET RISE
Airy and atmospheric, Spires that in the Sunset Rise are pagan folk with an experimental attitude. Creatively arranged and esoteric instrumentation features harps, harmoniums, strings of all kinds, xyolophones, mbiras, spike fiddles and more.
Spires That In The Sunset Rise homepage
JOHN ZORN & BILL LASWELL
Both originators of free and experimental jazz since the mid-70's, Zorn and Laswell are improvisational legends in multiple sects of sub-culture. Each with foundations in jazz music (Zorn on woodwinds and Laswell on bass ), their ensemble performances often include brilliant compositions and structures in which improvisation can flourish. They regularly collaborate with each other and have also worked with Lou Reed, Anthony Braxton, Mike Patton, Serj Tankian, Motorhead, White Zombie, Fred Firth, Iggy Pop, Kronos Quartet, Herbie Hancock and Derek Bailey.
John Zorn homepage
Bill Laswell homepage