Benny Soto and Rob Fernandez present TIMO MAASKickin off Dance.Here.Too residency.

DOOR TIME CORRECTION

November 28, 2009 11:00PM 21+TICKETS HERE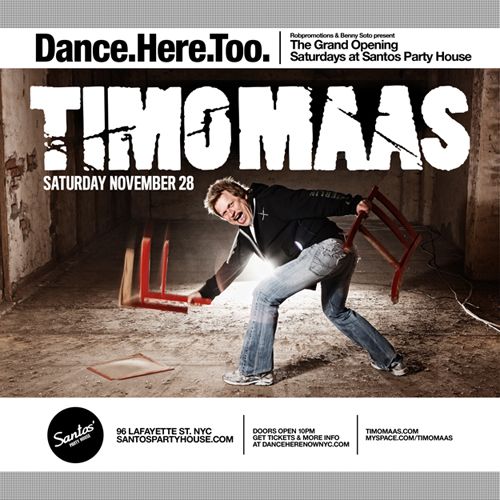 Saturday: Amateur night, right? Immortalized in John Travolta movies and Misfits songs, it's when everybody suits up and goes out. And you know what that means: Bad crowds, please-'em-all music, and no space to dance.

Well the guys who brought Thursdays back are ready to perform Saturdays the same service.Rob Fernandez & Benny Soto, the promoters behind award-winning shindig Dance.Here.Now., are proud to present Dance.Here.Too.

A new concept in weekend fun that adapts the music-first DHN vibe to a party after which you don't have to wake up for work.

"We realized that Saturday had fallen off the menu for a lot of people, and that's just a waste of a night off," says Rob.

"We wanted to create an alternative to the big, impersonal club experience that is more of a comingtogether of people that love music in a big way. We're taking back Saturday nights.," says Benny.Set at Santos Party House – one of the city's best dance-friendly venues with a custom sound system that defies ear fatigue – DHT will bring the focus back to you, your friends and the music. No nonsense, no door drama, no fuss.

With a wide-open music policy, featured DJs will run the gamut from house (American and European), toelectro, to uncategorizable. Already booked: Nervous Records artist/house legend Oscar G; the European"DJ's DJ," Danny Howells; and superstar-of-the-moment Laidback Luke. (Full list of dates below.) So next time you're actually considering putting on your PJs and watching "Saturday Night Live," set the DVR, get up, and get out to Santos and Dance.Here.Too.

In light of the season, Santos is feeling particularly thankful for the patiers keeping nightlife alive. So we're giving a little something back. E-mail
presents@santospartyhouse.com
with "Squanto's Party House" in the subject line for a chance to win two FREE spots to
Timo Maas
at Dance.Here.Too. Two winners will be selected. Please enter by 3:00pm on Saturday November 28.
Future Dance.Here.Too dates (10pm doors for all, 21+):
12/5/09 -
Nervous House Summit: Oscar G & Starkillers
12/12/09 -
Danny Howells
12/19/09 -
Behrouz
12/26/09 -
Cosmic Twins: Derrick May and Francois K
Tickets are also available at:
REBEL REBEL
319 Bleecker St
New York, NY 10014