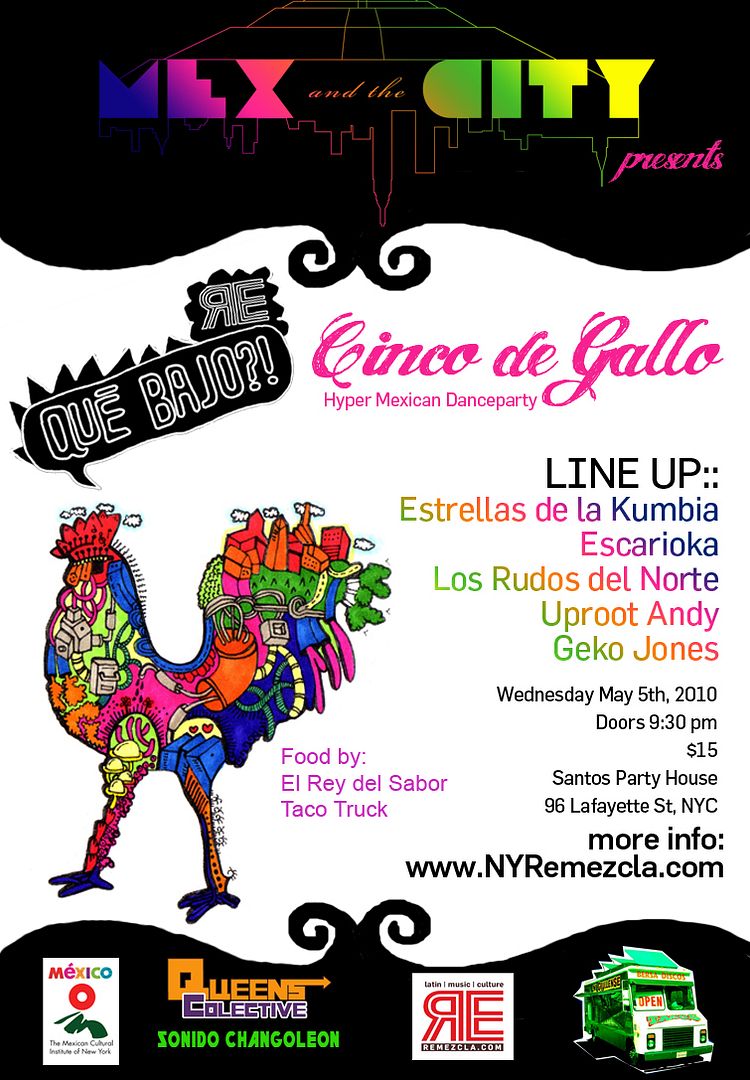 Last Wednesday, the behemoth subwoofers in our underground level heralded a new era in New York City nightlife. Que Bajo?!, a dance party dedicated to the fusion of traditional latin genres with new school electro and dubstep, successfully transitioned from a monthly to a weekly slot with residents Geko Jones and Uproot Andy at the helm. In other words, we get low frequency more frequently.

Steve Lewis, nightlife legend who has a column in BlackBook, stumbled upon the party and fell in love instantly.
Downstairs, a seriously fabulous party called something like QUE BAJO, which I am told is all about new school Cumbia, was packed and sexy....The nightlife pro that I am always finds the good party.
Other long-time supporters of Que Bajo!? and the neo-cumbia movement have chimed in their enthusiasm for this development.
[Uproot Andy and Geko Jones'] blend of Afro-Latin music and electronic bass styles has earned them a worldwide reputation for throwing a good party with forward thinking music. The two are being flown around the world to DJ, their remixes storm the interwebs, and they've inspired a number of DJs to push a similar sound in New York. And after packing Santos Party House in Manhattan during the February blizzard, the club has asked them to throw a weekly party there. -[BushickBK]

When I say that Que Bajo?! nights are the best selection of all out danceable Latin/African rhythms, Cumbia and Dancehall… I mean it. I don't know how else I can say that Que Bajo is one of the best party events in the US. Luckily for NYC music lovers the party is now a weekly event every Wednesday at Santos Party House, NYC. -[My Latino Voice]



But a musical renegade never rests on his laurels, so Andy and Geko are jumping at the first opportunity to outdo themselves. On May 5th, they will be teaming up with arts blog Mex and the City and the Queens Collective for CINCO DE GALLO, a Que Bajo?! installment featuring a full live line-up that extends the party's sound into new musical territory. Estrellas de la Kumbia have developed impeccable electronica for the barrio, Escarioka fuse a pantheon of latin styles into a cohesive whole, and Los Rudos are a tight ensemble that permeates ska, punk and metal to their latin roots.

Doors open at 9:30pm, El Rey del Sabor taco truck will be in attendance, insanity will ensue. I don't even have to write some shit like "come on down" because if this doesn't sound amazing to you, there are other issues in your life you need to deal with.