Quintron & Miss Pussycat, Jeff The Brotherhood and Ava Luna
Sunday, June 13, 2010
8:00 PM 18+
TICKETS AVAILABLE HERE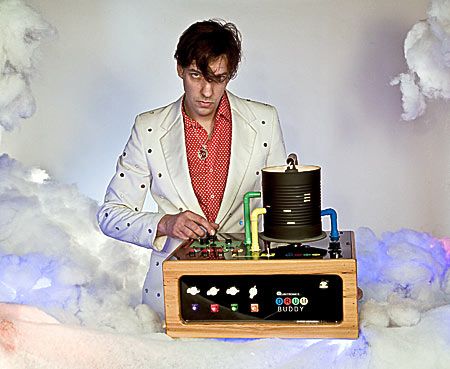 QUINTRON & MISS PUSSYCAT

Not much is known about the mysterious Quintron, aside from his bizarre and spectacular talents. Returning to the Party House for the third time, his expert organ keyboard and organ work pairs up with swampy electro grooves to create rhythm and blues for the 23rd century. And while he might be a musical Stephen Hawking, he's an instrumental Dr. Moreau. Quintron brings with him several of his own hybrid musical inventions designed specifically for booty-thumping Cajun jams.


Quintron's partner in crime, Miss Pussycat, created some legal issues for us when she raised the roof with her puppet show, posing a structural risk. We had to close the venue for three months in order to adjust the columns and foundation, meanwhile creating an elaborate scheme in collaboration with the media to keep up the appearance of a bustling venue. We are deeply ashamed, and we think a third performance is the right way to celebrate. Miss Pussycat is the founder of the Pussycat Cavern theater and proprietor of Spellcaster Lodge in New Orleans. This may be a puppet show but it's realer than real life.
JEFF THE BROTHERHOOD
The psychedelic leaning proto-grunge of JEFF The Bortherhood is, for all its grittiness, incredibly tight and cohesive, each riff, hi-hat line and guitar effect falling perfectly into place. Their affinity for danceability makes them a powerhouse of modern garage, though they number only two members who are also real life biological brothers.
Popmatters
praises their 2010 album Heavy Days, saying, "With Jake on guitar and vocals and Jamin on drums, the brothers fuse together hard psych, muscular power-pop, and punchy punk in order to spit out a melodic speedball of pure rock 'n' roll energy."
AVA LUNA

Ava Luna's sound is hard to pin down, but "post-punk space-funk" might describe their incorporation of sensuous harmonies fused with jagged, urban grooves. The principle songwriter, vocalist Carlos Hernandez, builds understated and deceptively complex arrangements, recalling the likes of Stevie Wonder, Chad Hugo, and TLC at their best. The
L Magazine
named them one of the 8 Band You Need To Hear, saying, "Nothing is ever really front and center here, rather pushed just off to the side, briefly passing through your periphery and then disappearing just moments before popping up somewhere else entirely, and the result is some of the most immediately engaging and smart music currently coming from our city."