FOR THE MOUSTACHE YOU LOVE:
Andrew W.K. (solo piano set), Mon Khmer, Roadside Graves, Deradoorian
Monday May 3rd, 2010
7:00 PM 18+

TICKETS AVAILABLE HERE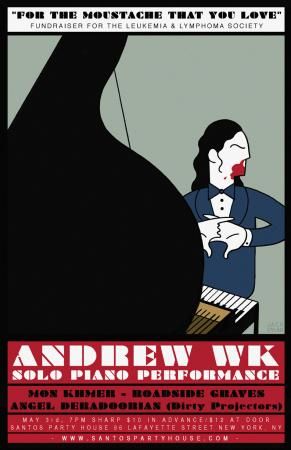 The Leukemia & Lymphoma Society (LLS) is the world's largest voluntary health organization dedicated to funding blood cancer research, education and patient services. LLS's mission: Cure leukemia, lymphoma, Hodgkin's disease and myeloma, and improve the quality of life of patients and their families. Since the first funding in 1954, LLS has awarded more than $680 million in research funding.
ANDREW W.K.
The recent wave of interviews, articles, and even a town hall-style meeting, was an attempt by Andrew W.K. to combat the bizarre controversies and conspiracy theories that surrounded his identity. But ultimately, nothing has proven more effective to certify his authenticity than his recent critically lauded and explosive musical performances. Shortly before returning to full-ensemble rock shows and the US release of his "lost third album" Close Calls With Brick Walls, he turned heads with 55 Cadillac, an LP of improvised solo piano performance released on Thurston Moore's Ecstatic Peace label. Dynamic, diverse and technically flawless, the album is the product of a lifetime's mastery of the instrument and an anthemic aesthetic that made Andrew W.K. an international superstar. After a string of highly publicized SXSW shows, he will be returning to the solo instrumental format at Santos Party House.
MON KHMER
The Berklee-trained quintet Mon Khmer create ethereal, groove-based and layered indie rock without the effects overdoses and computer-generated "lo-fi" sounds that are dominating the scene. Despite bucking the trends, they have earned praise from BrooklynVegan, Stylecaster, Dummymag (UK) and The L Magazine, who calls them "heavy and dense, but in the best possible way - you can pick up something different with each listen." Their harmonized guitar riffs tumble into space-age synths and pulsing drums that maintain danceable, head-nodding rhythms.
ROADSIDE GRAVES
For Roadside Graves, art imitates death. The theme of mortality rules the lyrics of John Gleason, whose seven-piece ensemble includes a farfisa and banjo and features a heavy, country fried twang and gospel harmonies. Of their 2009 LP My Son's Home, Pitchork says, "There are moments of haunting, fragile stillness here...Perhaps most admirably of all, the Roadside Graves excel at the brave and difficult paradox of suffusing death with life, injecting vivacity and humor into their reflections on mortality."
DERADORIAN
As the bassist for the Dirty Projectors, Angel Deradoorian has already earned a reputation for clever, unsettling pop music. Her psychedelic side project is a foray into the dark side, buoyed by instrumentalism in the realms of folk and electronica, capped with a vocal range that easily slides from subdued to booming.