JEFF The Brotherhood, Screaming Females, Juiceboxxx, Teen Witch, DJ Thanksgiving Brown
Thursday, March 31, 2011
7:00 PM 18+
TICKETS AVAILABLE HERE
and at
Other Music
(15 East 4th St)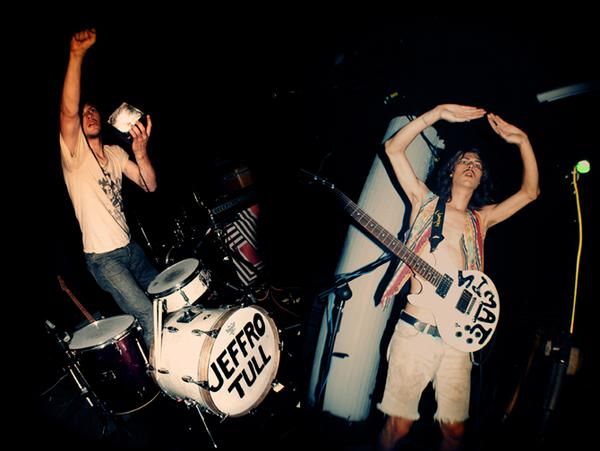 JEFF THE BROTHERHOOD
Real-life brothers and dynamic garage duo Jeff The Brotherhood might be considered a breakout artist these days, but the youngsters have been power-riffing away since the early 2000's when Jamin and Jake Orrall were in their mid-teens. Their sound is huge compared to their modest setup – a lightly outfitted trap kit and a guitar minus three strings, but the grooves they lay down are weighty and dense, perfectly complimenting their mature songwriting. Strictly DIY in practice, the group run their own label Infinity Cat, and through it produced and released their 2010 album Heavy Days, recorded by Roger Moutenot (Yo La Tengo, Sleater Kinney, Velvet Underground ).




SCREAMING FEMALES
Heavily touted by the likes of Ted Leo and BrooklynVegan, the pop-inspired punk rock of Screaming Females is an undeniably jarring mixture of coarseness and brilliant songwriting. Somehow, they pour on layers of memorable melody despite being a humble trio. Marissa Paternoster earns the most attention as the guitar-savvy frontwoman with the versatile yell as befits the band's name. Pitchfork approves, saying, "Punk has traditionally prized attitude over abilities, but Screaming Females have both: Rather than muzzle their ferocity, the band's tight, tense dynamic amplifies the fuck-off stridency of their fourth LP, Castle Talk."




JUICEBOXXX
The otherworldly sounds of Juiceboxxx, producer and sometimes rapper, are rooted in hip-hop, but share a kinship with glitch, house, electro, punk and various underground club musics. The world of music journalism is just warming up to this young talent, thanks in no small part to his slot supporting Public Enemy on tour.

TEEN WITCH
Occupying a comfy niche between retro pop and punk, Teen Witch are an unsigned hype not to be underestimated.