TOUBAB KREWE, BREAK SCIENCE and MAMARAZZI live
November 19, 2009 8:00 PM 18+
TICKETS HERE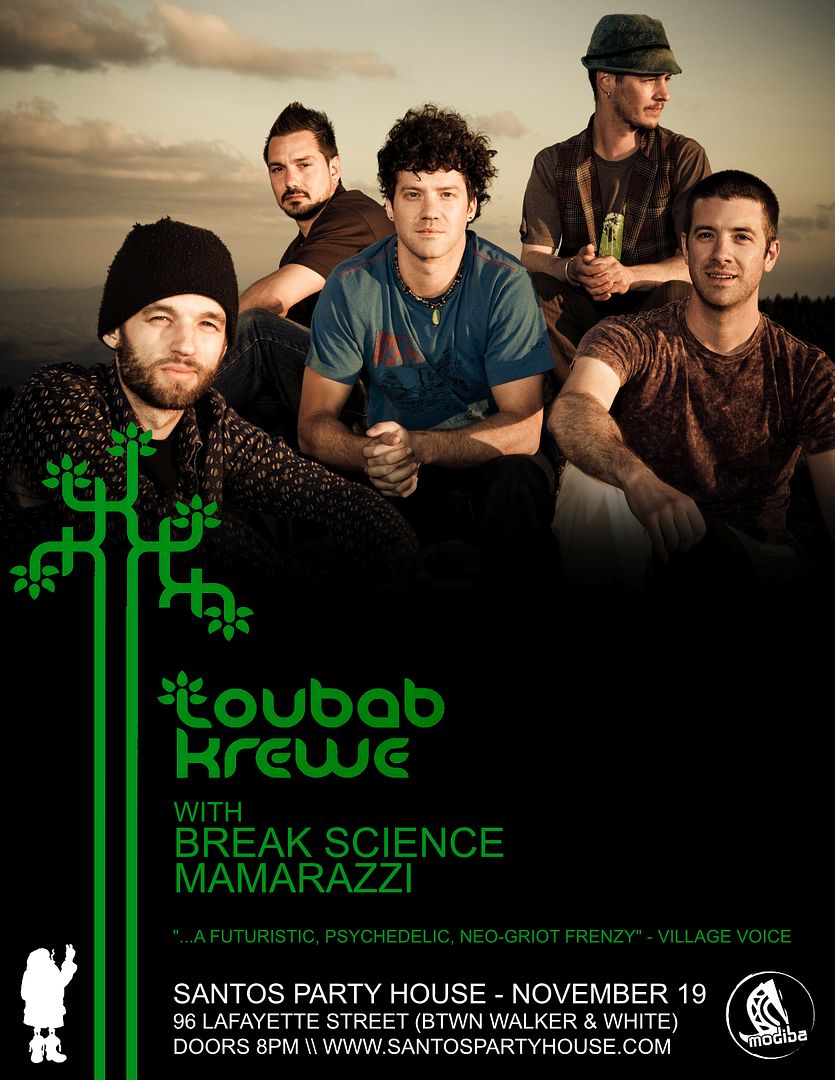 TOUBAB KREWE
It was only four years ago that the Bonnaroo staple and culturally transcendent ensemble known as Toubab Krewe crystallized as a cult favorite of jam festival-goers and African music enthusiasts. While most of their classmates at Wilson College were having identity crises, the quintet was redefining the notion of identity altogether, earning a grant to travel to the Ivory Coast, Guinea and Mali to study traditional African instruments and techniques. They emerged having fully incorporated their African education with the folk and rock they grew up playing together.
The Krewe are two percussionists and three string players alternating between electric guitars, basses, the souk, kamel ngoni, and the kora. Their mostly instrumental, heavily improvised music recalls jam-bands like Phish, the Americana folk of Deer Tick and the Afropop tambours of Osibisa. Their 2005 debut LP, consisting primarily of re-arranged African standards, turned heads in the realm of "world music" and solidified their international, acclaim. Afropop Worldwide raved that the release "set a new standard for fusions of rock 'n' roll and West African music."
Their most recent album Live At The Orange Peel is an on-location performance recording featuring all new material including the surf riffs of "51 Ft. Ladder" and the lush percussion of "Maliba." The album is an incredibly layered and bountiful offering produced by the Grammy-winning Steven Heller (Chet Atkin, David Wilcox). At Santos Party House on November 19th, they will be resurrecting that magic on the best sound system for live music in the city. The coalescence of many musical strains will no doubt reach an unprecedented climax.
"A Toubab Krewe show typically begins in the past, with a brief percussive disquisition on West African rhythms; gradually picks up velocity as more surf, jazz, dub, and hip-hop ideas are stirred into the mix; and ultimately climaxes in a futuristic, psychedelic, neo-griot frenzy." (THE VILLAGE VOICE)
Toubab Krewe homepage
BREAK SCIENCE (closing)
Adam Deitch is the one-man production/live percussion machine who meshes organic improvisation with deft sampling and breakbeats. He has played alongside Earth, Wind and Fire, Chaka Khan and has produced for Talib Kweli, 50 Cent, Snoop Dogg and MF DOOM to name a few.
Break Science on Myspace
MAMARAZZI (opening)
Mamarazzi is the result of the natural magnetism between the ripest of musical facets. Taking the the left-field dub harmonies currently being explored by Tanlines and TV On The Radio, the African rhythmic sensibilities of Antibalas, as well cool jazz inspired arrangements, Mamarazzi has something every serious music lover. Their Myspace cleverly suggests "Mathrobeat" as a term for classification. Members have played with Qustlove, Wyclef, Roy Hargrove, and Farka Toure to name a few.
Mamarazzi on Myspace
Tickets available at:
OTHER MUSIC 15 East 4th St
New York, NY 10003