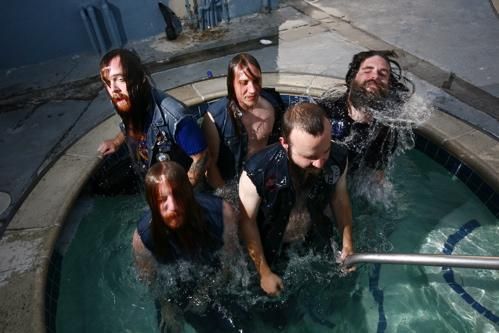 VALIENT THORR, RED FANG and CHILDREN live!October 17, 2009 7:00 PM 18+
TICKETS HERE
VALIENT THORR
The unfortunate stereotype that plagues Venusian extra-terrestrials is that they lack any sense of groove. However, when Valient Thorr landed in 2001, all that changed and pretty quickly, as their space-age riffs became the standard in psychedelic metal. Alien in-jokes aside, Valient Thorr do serve up a helping of fringe worldview with good old fashioned political dissent, including barbs aimed at predatory capitalism and modern day warfare, not to mention the underlying culture of conformity and oppression. Their deft riffs and solos, pounding percussion and soulful vocal recall the early metal structure laid by the likes of Thin Lizzy through the lens of current-day brutality a la Arch Enemy or Mastodon.
While their most hardcore followers, or
Thorriors
, have created their own culture based on cult fandom, the balanced sound of Valient Thorr has inevitably crept into the mainstream. They are Warped Tour staples and have also shared the stage with the likes of Motörhead, Joan Jett, Andrew W.K., NOFX, AFI, and Eagles of Death Metal . The video games Guitar Hero II, Need For Speed: Carbon and Skate all boast Valient Thorr tunes on their soundtracks. Their 2008 album Immortalizer (Volcom Entertainment) was produced by Jack Endino (Nirvana, Mudhoney, Soundgarden, High On Fire) and, according to Indyweek.com, features the band sounding "exactly like it should right now." 7:00PM on November 17 at Santos Party House are the coordinates for when Valient Thorr will be transcending time and space.
Valien Thorr Homepage
Video for Valient Thorr's "Tomorrow Police"
RED FANG
Marrying ornate psychedelia with doomsayer metal until they have crystallized into something beyond awesome, Red Fang is the breath of fresh air that so many scenes are desperately needing. Their wide canvas of heavy sound has landed them live spots alongside the likes of Kylesa, Early Mann and Wizard Smoke.
Red Fang on Myspace
Tickets available at:
OTHER MUSIC
15 East 4th St
New York, NY 10003