reOPENed with SPECIAL GUEST PETE ROCK
residents JUST BLAZE, DJ SOUL, DJ GRAVY, MICRO DON and MAX GLAZER (Federation Sound)
Friday, July 30, 2010
10:00 PM 21+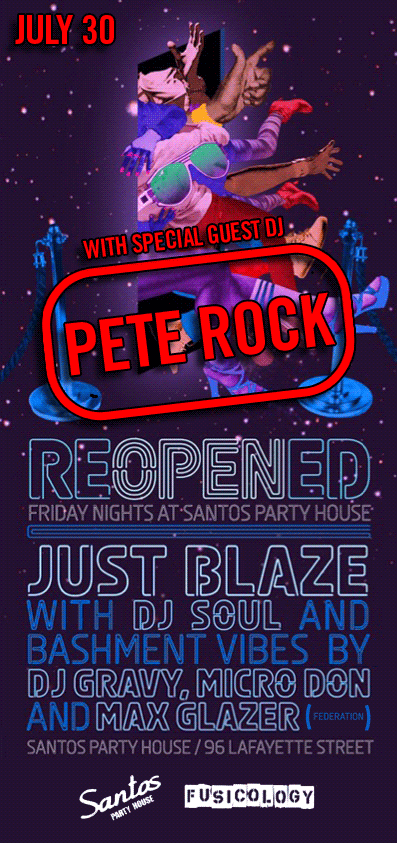 Dubbed "Best DJ Night" at Paper Magazine's 4th Annual Nightlife Awards, reOPENed has earned the reputation for being the most important Friday night in the Five Boroughs for the masses to get down. From movie stars to breakdancers to workplace warriors of every collar, the crowd is a beautiful representation of New York City's soul, and the music is engineered accordingly. Upstairs is JUST BLAZE, the multi-platinum producer and remixer who has laid tracks for Jay-Z, Busta Rhymes, Beastie Boys, Mariah Carey, MF DOOM, Janet Jackson, Jay Electronica, Kanye West and many more. While his sets do feature plenty of classic hip-hop, less obviously he makes liberal use of house music, soul classics, electronic disco, and just about anything with a serious beat. DJ SOUL is at his side, stepping it up with some ecclectic selections adored by his crowd of music moguls and celebrites. Meanwhile, DJ Gravy, Max Glazer and Micro Don establish the Friday night headquarters of Caribbean grooves in our downstairs level, spinning dancehall, soca, as well as classic reggae and reggaetronica.

PETE ROCK will be joining us for a special set early on in the night (11pm) so get there on time! Remember it's just $10 if you arrive before 11pm!
________________________________________
!!!FREE WITH RSVP!!!
Dance.Here.Too: TONY TOUCH (special house set), Mr. V, and DJ Severe
10:00 PM 21+

FREE WITH RSVP Dance.Here.Too: Mr. V., special house set by Tony Touch, and DJ Severe Saturday, July 31, 2010 11:00 21+
RSVP
here
That's right - brilliant hip-hop selector, producer and sometime MC Tony Touch is controlling the decks at Santos Party House, taking a left turn in favor of some true school house music. For free.
Alongside him will be underground house and hip-hop deck genius
Mr. V
and and beat genius
DJ Severe
.
Rob Fernandez & Benny Soto, the promoters behind award-winning shindig Dance.Here.Now., are proud to present Dance.Here.Too. A new concept in weekend fun that adapts the music-first DHN vibe to a party after which you don't have to wake up for work.
Set at Santos Party House – one of the city's best dance-friendly venues with a custom sound system that defies ear fatigue – DHT will bring the focus back to you, your friends and the music. No nonsense, no door drama, no fuss.