Legendary nightlife artisans Rob Roth and Chi Chi Valenti are returning to Santos with the third installment of their techno-glam party,
CLICK + DRAG
3.2: AGE OF AQUARIUS. The world of pan-sexual cyberpunks is alight with positive buzz, and the city's magazine dedicated to leisure, TimeOut New York, has climbed aboard the bandwagon, publishing an interview with Roth in their latest issue addressing how times have changed since he pioneered the party's aesthetic.
Do you think Click + Drag still has vitality in an era when cyberness is a part of everyday life?
Early on, we were all about the relationships between technology and fetishism and all that; it was still a new concept. Now, forget it. It's happened. But at the core, we actually were always about change and about the future, and about bringing together all these subsets of the underground—the leather community, Radikal Faeries, transvestites and the rest. Plus, people really wanted us to do the party—we kind of had no choice!

CLICK + DRAG 3.2: Age of Aquarius
Saturday, October 9
11:00 PM 21+
TICKETS AVAILABLE HERE
The pioneering "Cyber/Fetish/Gender-Hacking" party CLICK + DRAG, which ushered out the 20th Century in style and was reborn in 2008, announces its third annual Future-Spectacle for October 9. Two of Click's founding producers - director and visual artist ROB ROTH and nightlife impresario CHI CHI VALENTI of THE JACKIE FACTORY will stage this year's epic CLICK + DRAG 3.2/ AGE OF AQUARIUS at the suitably Aquarian venue SANTOS PARTY HOUSE. CLICK 3.2/ AGE OF AQUARIUS is a two floor, evening-length epic, preserving the night's strict dress code, elaborate installations and stage shows, and pansexual mix of fetishists, artists, gender-hackers and "Glam Nerds."

With this Utopian brew as inspiration, CLICK + DRAG 3.2 will feature multimedia works directed by ROB ROTH with light shows by SETH KIRBY and BROCK MONROE of the JOSHUA LIGHT SHOW and the contributions of dozens of creative collaborators. Highlights will include performances by neo-burlesque performance artist NARCISSISTER, RUMI OF THE FABULOUS COCKETTES!, vocal she-goddesses AMBER MARTIN and LADY RIZO, neue cabaret troupe THE PIXIE HARLOTS, and Method Go-Go icons including bodybuilder (and Click 3.2 cover girl) ROXANNE EDWARDS and costume cultist FALON. The evening also features costume design by longtime Click couturier GARO SPARO and a futuristic soundtrack that runs the gamut from sixties psychedelia to electro house.

A STRICT CYBER/FETISH/TRIBAL DRESS CODE WILL BE COMPLETELY ENFORCED: WEAR AQUARIAN FLOURISHES, GLITTER BEARDS AND MERKINS, RESPLENDENT RAGS, PAGAN CHIC, WATERFALL HEADDRESSES, TURQUOISE PAINT, GODDESS OR TRANS-GODDESS, BODY-ADORNED or CYBER, FETISH, TRIBAL, GENDER-HACKING, FAERIE, GOTHIC OR BRILLIANT BLACK. ABSOLUTELY NO STREET CLOTHES OR MUNDANES - NO EXCEPTIONS.

____________________________________________________
BOWIE BALL: The Ultimate Glam Rock Revolution
Sunday, October 10
8:00 PM 21+
RSVP HERE: bowieball@gmail.com
TICKETS AVAILABLE HERE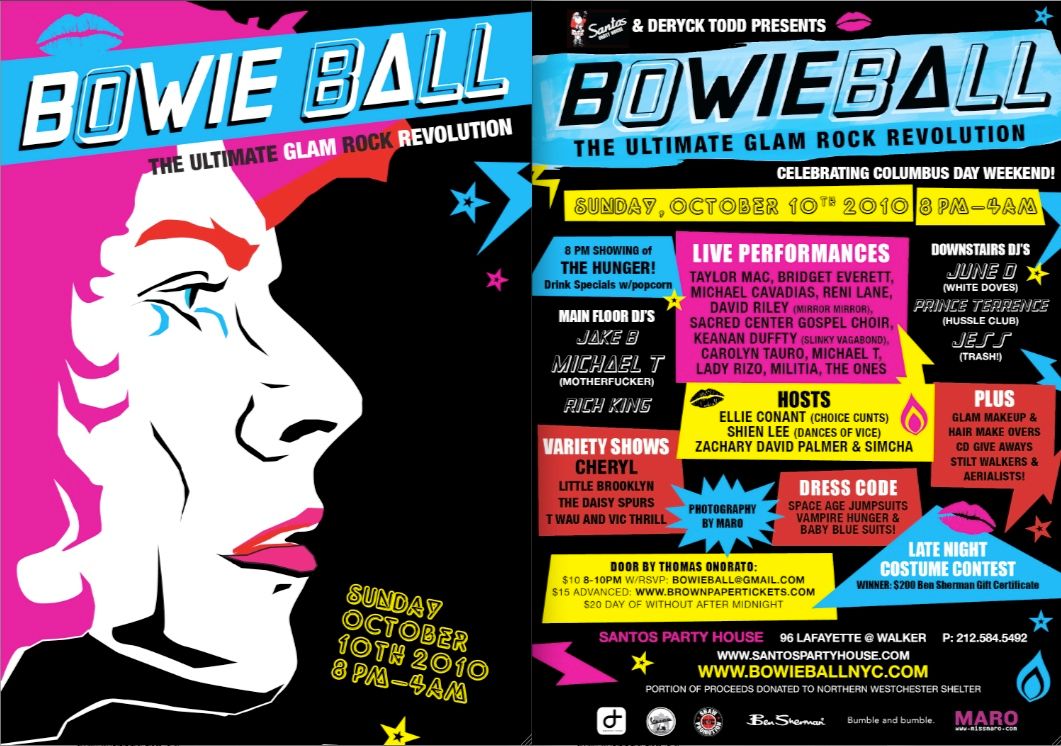 An intricate production with a simple idea, Bowie Ball is "The Ultimate Glam Rock Revolution," a tribute to Ziggy Stardust and to the era of space-age pan-sexual liberation. The event is assembled by Deryck Todd, ambassador of nightlife and fashion, has been throwing this legendary party yearly and it has been declared a "rousing success" by the Village Voice, and according to the New York Press, "resurrected old New York." The line-up features nightlife's most influential DJ's, live music, cabaret performances, glam make-up and hair make overs, costume contest and a screening of The Hunger at 8pm. A portion of proceds donated to the Northern Westchester Shelter for survivors of domestic abuse.

LIVE PERFORMANCES BY:
Taylor Mac
Bridget Everett
Michael Cavadias
Reni Lane
David Riley (Mirror Mirror)
Keanan Duffty (Slinky Vagabond)
Carolyn Tauro
Michael T
Lady Rizo
Militia
The Ones

VARIETY SHOWS:
CHERYL
Little Brooklyn
The Daisy Spurs
T Wau and Vic Thrill

DJ'S
MAIN FLOOR
Jake B
Michael T
Rich King

DOWNSTAIRS
June D
Prince Terrence
Jess

Photos by Maro

HOSTS

Elllie Conant
Shien lee
Zachary David Palmer
Simcha