Halloween is recognized to the nightlife community as that magical night when the rest of the world dresses up like we normally do all the time. But rather than reciprocate by becoming a bunch of squares, Santos has capitalized on the moment to bring you two events that highlight the sub-cultural innovators that are New York's life blood.
The Voluptuous Horrors of Karen Black with Samoa and Hussle Club

Sunday, October 31st
7:00 PM ALL AGES
Tickets available here
and at the Other Music store (15 East 4th St, New York, NY 10013)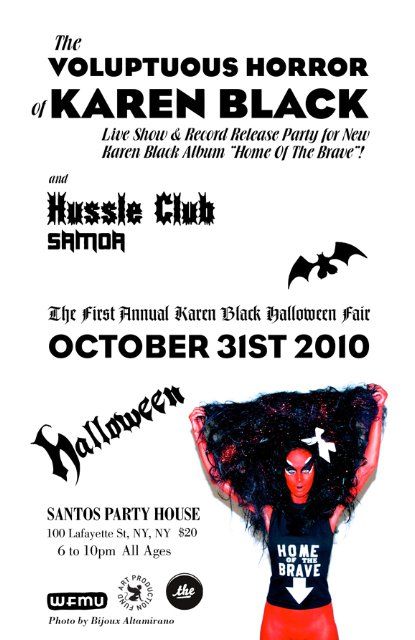 Kembra Pfahler created
The Voluptuous Horrors of Karen Black
in 1990 as the musical wing of her assault on prevailing culture. Her love for shock and horror are blended with an urbanite punk's eye for decaying civilization and packaged within a fleshed out thrash punk. Her sets make heavy use of visuals, often encompassing performances pieces and sculpture, including her famous "Wall of Vagina" (exactly what it sounds like), as well as moments of religious and moral transgression. Those fond of Gwar, the Misfits, or Siouxsee and the Banshees will find a lot to love here. On October 31st, she will be celebrating the release of her new album Home of the Brave, which takes a look at the political climate with a traditional Voluptuous Horrors slant.
Pfahler's proclivities towards the dark and incorporeal came from the stories told by her imaginative grandmother and a youthful fascination with horror films. A career in underground horror and fetish films followed, but the Voluptuous Horrors would live on as her vehicle for more notorious projects, including performance arts installations at Deitch Projects and the Whitney Biennial. Her plans for Halloween 2010 are grandiose to say the least, and we can't think of a better way to ring in the holiday.
HUSSLE CLUB
Prince Terrence is well known to those in the know thanks to his gigs drumming for Major Lazer, Santigold, Spank Rock, and Heartsrevolution, but in 2009 he announced his own solo endeavor that promises to make comparable waves all its own. Hussle Club is danceable post-punk informed by Terrence's life in the Detroit projects, Louisville, the Big Apple, and the circus known as the music industry. Terrence is the sole instrumentalist for the Hussle Club recordings, making him a savvy frontman for the project's fiery live sets.
SAMOA

Samoa Moriki, co-founder of The Voluptuous Horrors of Karen Black and responsible for providing their metal backbone, is the pilot of his own ferocious endeavor. The band borrows from a number of genres, notably country and garage, injecting a politically subversive bent.
_______________________
VOODOO BOOGALOO: Halloween Magick & Sin by
Kostume Kult
and Choice Cunts

Rituals, performances, extreme visuals, voodoo gogo girls
DJ's Journeyman, Reda, SRSLY, Angel Boi, Lesbian Van Halen
guest Jared Hioki
Sunday, October 31st
11:00PM 21+
Limited advance tickets here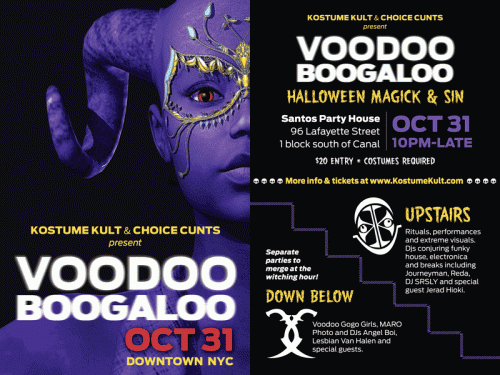 Kostume Kult & Choice Cunts Present

Voodoo Boogaloo
Halloween Magick and Sin

On Halloween night Kostume Kult joins forces with badass party girls Choice Cunts to kick downtown Manhattan in the nuts. Expect the real deal-- down, dirty and stylish. Separate parties until the witching hour when all hell will burn loose.


2-for-1 drinks first hour 
/ strange brews all night


Style: A Halloween parade after-party, expect extreme, insane and savagely sexy styles. Bring your own personal voodoo and boogie til dawn. Feathers, skulls and body art are encouraged. Honoring this most magickal night will be very special guest DJ Jerad Hioki in his opening NYC performance with Journeyman, Reda (Disorient) and DJ SRSLY conjuring a delicious mix of house, electronica and breaks. Downstairs DJs Angel Boi and Lesbian Van Halen rock the Voodoo Gogo Girls, with MARO Photo and special guests.A gathering of cults and cunts, Leave your inhibitions at home.