DIM MAK presents: FELIX CARTAL and SOUND OF STEREO
October 7, 2010
11:00 PM 21+
TICKETS AVAILABLE HERE

11pm-12am OPEN BAR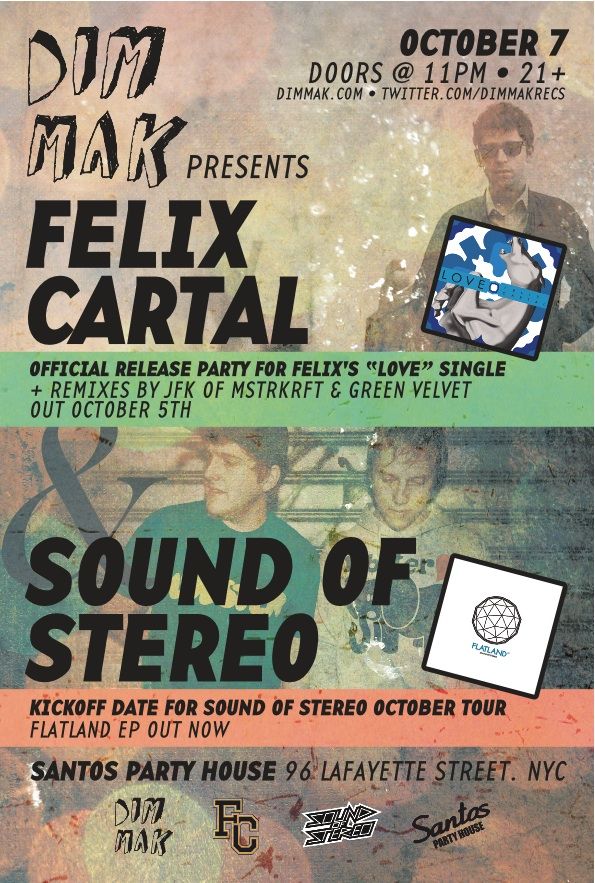 DIM MAK, Steve Aoki's influential label, returns to Santos Party House with a night of wild shit!

FELIX CARTAL
The Great White North's Great White Hope in the techno world is Felix Cartal, whose bassy and granula textures make his style unmistakable. His meteoric rise of Felix Cartal began in 2007 when he burst out the gate with official remixes for Moving Units and Dragonette, and following round of unofficial remixes for MSTRKFRFT and Ashlee Simpson landed him official slots on Dim Mak releases. He has been a key member of that imprint since, bringing a well-honed ear for percussive techhouse despite only being in the limelight for a few years. Violent Frequency proclaimed of his 2010 full-length solo LP Popular Music, "Underneath all of that glitter and glam, Felix Cartal is a tried and true Electronic artist. With 'Popular Music,' it's plain to see that this guy is here to stay." At Santos he will be celebrating the release of his single "Love."
SOUND OF STEREO
The style of Sound of Stereo can be summed up as a crash course in house music; elements of electro, disco, italo, and techno can be heard throughout. Samples are used liberally as well, as they are also a sleek remix team. This will be the first date of their October tour!