Benny Soto and Robpromotions have brought us two huge bangers for th next coming weeks as a party of their Saturday residency Dance.Here.Too. If you haven't come out of your crisis shelter since the oil leak, DHT is the city's premier weekly for all varieties of house and techno. The below parties are 21+.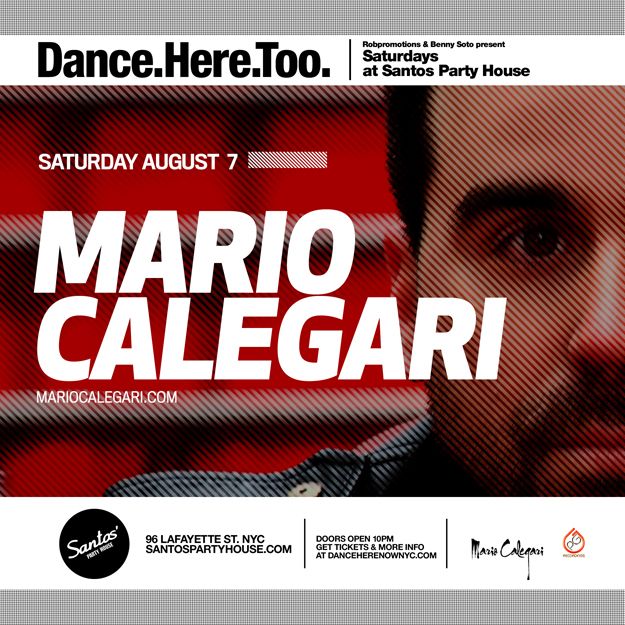 August 7, 11pm (TICKETS HERE)
Mario Calegari was a house addict on the New York and New Jersey scene before realizing his innate talent for production and DJ'ing. Not long after indulging his creative impulses did he find himself working alongside staple house legends such as Danny Tenaglia, DJ vibe and Victor Calderone. One of the originators of "Dark Samba," Calegari draws his sound from modern electronica as well as his musical heritage.
August 14, 11p (TICKETS HERE)
Horse Meat Disco is a DJ collective operating out of Eagle London, who specialize in fringe disco for the lifers. Heavily endorsed by James Murphy (LCD Soundsystem), they dig deep into the specialty forms of dance music, heavily featuring dub, italo and electro-funk. They declare themselves ""the queer party for everyone: homos and heteros, club kids, bears, fashionistas, naturists, guerilla drag queens and ladies who munch." Severino and Filthy Luka will be the headliners, and DHT has also brought in international disco sensation Daniel Wang and veteran production/crate-digging prodigy DJ Spun (Rong).