Dance Here too featuring M.A.N.D.Y.
Saturday, January 6 11:00PM 21+
TICKETS HERE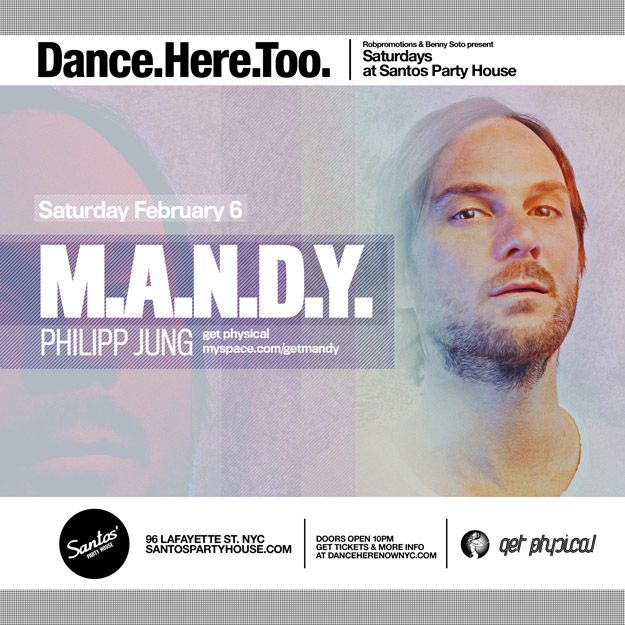 One half of internationally renowned M.A.N.D.Y., Philipp Jung simply has a knack for making bodies move. He and his partner Patrick Bodmer's highly successful and influential label is ever so aptly titled Get Physical, and I think you know what that means. Their shared musical proclivities invite you to be present with a symbiosis of complexity and elegance. An interpretation of classical elements through modern mediums is just the kind of paradox our fiery hearts long for--a vacillation between bright and dark, clean and dirty, soft and hard, tense and released. Furthermore, Philipp's on-stage antics demonstrate an enthusiasm for the craft that is infectious by nature and will surely find you wherever wander. If you aren't yet privy to this caliber of experience, the time is now.
Rob Fernandez & Benny Soto, the promoters behind award-winning shindig Dance.Here.Now., are proud to present Dance.Here.Too. A new concept in weekend fun that adapts the music-first DHN vibe to a party after which you don't have to wake up for work.
Set at Santos Party House – one of the city's best dance-friendly venues with a custom sound system that defies ear fatigue – DHT will bring the focus back to you, your friends and the music. No nonsense, no door drama, no fuss.
Future DANCE.HERE.TOO dates:
2/13 with Joel Mull, Sleepy & Boo
2/20 with Andy Moor
2/27 with Behrouz