reOPENed: JUST BLAZE, DJ SOUL, DJ GRAVY, MAX GLAZER, MICRO DON
EVERY FRIDAY AT 10PM
SANTOS PARTY HOUSE
After ruling Friday night in New York City for a year and a half, we salute and bid farewell to Q-Tip as we turn over the reigns to a new line-up of fiery DJ's. Upstairs we have one of the most important minds in hip-hop playing the music that defines our city, while downstairs we have the choicest dancehall sounds available. Friday night is re REOPENED!
JUST BLAZE
The psychedelic sped-up vocals of Cam'Ron's "
Oh Boy
." Jay-Z's dramatic "Interlude" becomes mainstream radio material. Ghostface Killah becomes an act big enough to rival the Wu-Tang Clan itself. What unites these moments, moments that asserted the prominence of true creativity, is production by Justin "
JUST BLAZE
" Smith. By having mastered turntablism, the art of sampling, percussion (on traps and machines), technology and the manipulation of musical climax, Just Blaze has become one of the most sought-after individuals in the industry, recognized as a living genius with an unique and influential style.
Having produced widely distributed hip-hop tracks since the mid-90's Just Blaze grew to prominence during the turn of the millennium as half of the in-house production team at Roc-A-Fella records (the other being Kanye West). His addictive use of futuristic sounds combined with horn ensemble samples remixed into post-modern arrangements propelled the careers of many upstarts including Beanie Siegel,
Freeway
, Joe Budden,
Fabolous
,
Kanye West
and Cam'Ron's Diplomats (Dipset). Aside from his Roc-A-Fella/Def Jam affiliates, he would go on to produce, remix and record tracks with urban music's biggest artists including Busta Rhymes,
Beastie Boys
, Mariah Carey, MF DOOM, Lil' Wayne, T.I., Mos Def… you name a charting rapper and he's made a beat for them. He currently has collaborations in the works with Eminem and Jay Electronica. His use of sped-up vocal tracks has been co-opted as a hallmark of many other producers, most notably Kanye West, and more alternative acts like Blockhead and Passion Pit.
As a party DJ, he puts down the old school and golden age hip-hop mixed with soul classics that Friday at Santos is known for. But then he veers towards material that might surprise his boom-bap audience. A sly translation pulls the party into a set of deep house, electro, disco both classic and new, and pretty much anything with a proper beats. This open-minded and fearless approach to music selection offers clubbers a glimpse into the creative framework behind today's most important producers.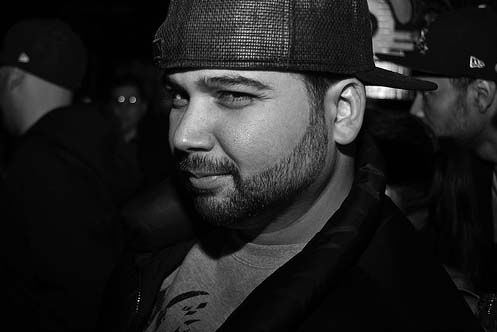 DJ SOUL
One of the most trusted names in vinyl,
DJ SOUL
carved his space amidst hip-hop royalty since the late 90's, rocking events and projects alongside Dead Prez, Bobbito and Stretch Armstrong. This era would also see him become a staple at high-profile industry parties for likes of Rawkus Records, Triple 5 Soul and Tommy Hilfiger, as well as private events for Russell Simmons, Naomi Campbell, Diddy, Mary J. Blige, Usher and baller status individuals of every stripe. In 2003 he hit the national airwaves on the one's and two's for the first season of Chappelle's Show. His own beats and remixes for remain some of the most provocative arrangements available. As support for Just Blaze, he will be a reliable backbone, a learned selector, and a valuable member of the community.
FEDERATION SOUND: DJ GRAVY, MAX GLAZER, MICRO DON
MAX GLAZER (RIGHT) WITH FEDERATION SOUND SYSTEM ALLIES ALRIC, BOYD AND KENNY MEEZ
It is said that when you're doing the right thing, the universe conspires towards your success. Proving this theory true time and again is the
Federation Sound System
crew, who are point blank the most important organization bringing Caribbean music to the New York City. With an extended family that reps from here to Kingston, their core membership holds down the basement every Friday to a mixed crowd of well-traveled music lovers.
MICRO DON (LEFT) AND DJ GRAVY (RIGHT)
Leading the pack is
DJ GRAVY
, whose mix album series Iration Soundz has made him a lord of the underground, while he leverages a mainstream buzz due to his habit of collaborating on events with big names like Wayne Wonder, Assassin, Erin Wassin, Mr. Vegas, Ricky Powell and Sean Paul. He is a production guru, often working with the Fyre Dept team (Adam Deitch and Eric Krasno). Also manning the decks is
MAX GLAZER
, touring DJ for Rihanna and Baby Cham, who held down the Rice & Peas residency that united the reggae masses from Brooklyn to Jersey. Playboy has said of his Serious Times mix album, "The mellow vibes kick in and the buzz never fades." The master of ceremonies is
MICRO DON
, whose booming voice coaxes the wildest movement from the multitudes.