Looks like the people of spoken, and boy is it hard to change their minds. Thanks to you we have won yet another democracy-powered vote, this time we took the Best Club category in
Metromix NYC
for their
Best of New York
series.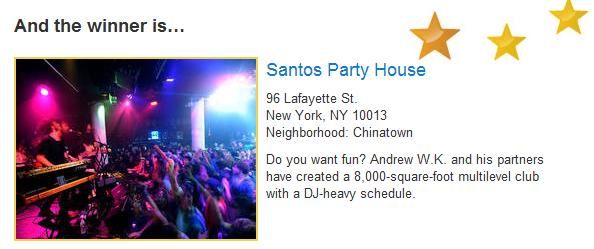 Hit 'em back with some traffic. They have a sweet article on
Amanda Cohen
.
_______________________________
Dance.Here.Too presents Danny Krivit and Dimitri From Paris
Saturday, January 30 11:00PM 21+

TICKETS HERE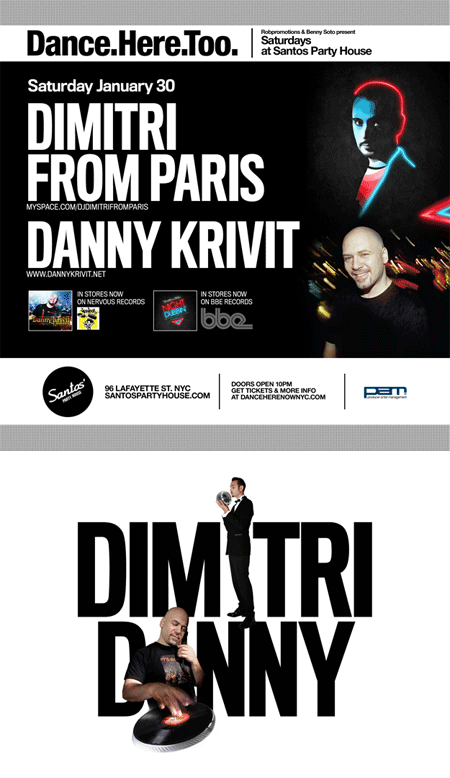 Dimitri from Paris, a Turkish-born Greek based in France, is an international king of mixing and house production. The foundation of his sound is early funk and cult film songs, from which he heavily samples for an authentically soulful sound. He was one of the first to popularize the art of the mixtape in Paris, and his legendary DJ sets would carry his career for decades. In 1996, his first studio album of original arrangements was named best album by the UK's Mixmag. His most recent compilation Night Dubbin, a collaboration with The Idjut Boys, is a neo-disco take on R&B.

Danny Krivit was an original catalyst of the disco scene in its infancy. With a father who managed Chet Baker and founded the The Ninth Circle discotheque, Krivit was immersed in music from a young age. His career began with anointment by James Brown, and grew into an immortal DJ franchise. He contributed to several turning points in the history of disco, including the record pool at The Loft, the creation of the disco edit, as well as the 718 Sessions and Body and Soul residencies. Today he is a living bridge between the early disco scene and the mounting soulful house coup.

Rob Fernandez & Benny Soto, the promoters behind award-winning shindig Dance.Here.Now., are proud to present Dance.Here.Too. A new concept in weekend fun that adapts the music-first DHN vibe to a party after which you don't have to wake up for work.

Set at Santos Party House – one of the city's best dance-friendly venues with a custom sound system that defies ear fatigue – DHT will bring the focus back to you, your friends and the music. No nonsense, no door drama, no fuss.