DANCE.HERE.TOO
with Hector Romero, Sleepy & Boo, System Audible & Stimulus Response (downstairs)
Benny Soto and Rob Fernandez
' DANCE.HERE.TOO set out to "bring back Saturday night." If reviving the weekend requires the most important minds in house and electronica spinning for a vibrant room boasting a thick, unpretentious crowd, then they've succeeded on a weekly basis since late November. This week they've got some fire talent this Friday, a full lineup of career party-rockers taking over both floors with some nicely articulated bass, warm mids and measured but assertive highs.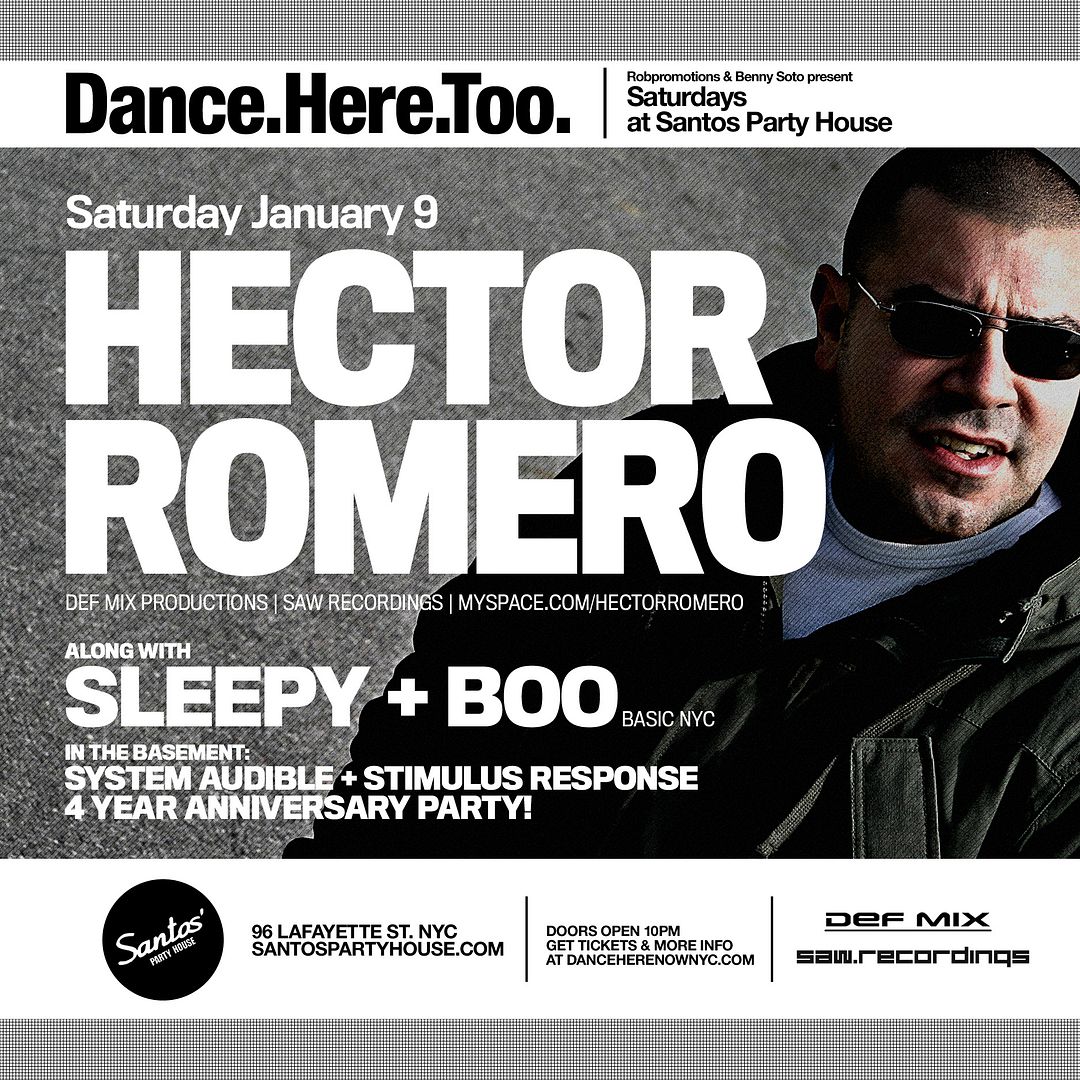 Hector Romero is a lifetime selector. While there's always a risk of a lackluster sets from producers and remixers who treat DJ sets like an obligatory chore, Romero has dedicated his life to assembling his repertoire and crafting taylor-made mixes specifically to the audience present. He is known as the operating management arm of Satosh Tomiie's Def Mix and SAW Recordings, and the international tastemaker for house, techno and electro heads. He rocks New York as easily as he does Ibiza, Spain, Italy, Greece or Canada. Those in attendance will have the pleasure of experiencing the artisanal sound experience.




Openers

Sleepy & Boo

are all about stripping the electronica scene of inflated pretention and filling it with a carefree, fun-obsessed attitude, not to mention the best in trance and techno. When not perusing their DJ monikers, aptly lifted from Super Mario, they are Basic NYC, grinding promoters of the city's illest deep house parties.

Live-mixing, effects and sinister synths define the unique sound of the four System Audible DJ's. They've made a point to have "positivity" as their focal point, tailor-making their selections to the needs of any crowd.

The Stimulus Response team are all about the juxtaposition of the collective and individual, bringing their wild and diverse tastes and uniting them under a soulful house and techno umbrella. They have performed alongside legends such as Oscar G, Tedd Patterson, Richie Santana, and Peter Bailey.

AN HOUR OF 2-FOR-1 DRINKS STARTS AT 10PM!!!

Rob Fernandez & Benny Soto, the promoters behind award-winning shindig Dance.Here.Now., are proud to present Dance.Here.Too. A new concept in weekend fun that adapts the music-first DHN vibe to a party after which you don't have to wake up for work.
Set at Santos Party House – one of the city's best dance-friendly venues with a custom sound system that defies ear fatigue – DHT will bring the focus back to you, your friends and the music. No nonsense, no door drama, no fuss.
FUTURE DATES:
January 16: King Britt
January 23: Funkagenda
January 30: Dimitri From Paris & Danny Krivit
February 6: M.A.N.D.Y.
February 13: Joel Mull, Sleepy & Boo
February 20: Andy Moore
Februayr 27: Behrouz
March 13: Laid Back Luke
PREVIOUSLY....
The Cosmic Twins:Derrick May & Francois K 12/26/09(see more at
WNYC
)
Steve Lawler 1/02/2010 (see more at
ResidentAdvisor
)