THE ULTIMATE PARTY: The Pack A.D., Zuzuka Poderosa, Cherie Lily and DJ Soundwavve
Saturday, March 27
7:00PM 18+
$1 drinks

TICKETS AVAILABLE HERE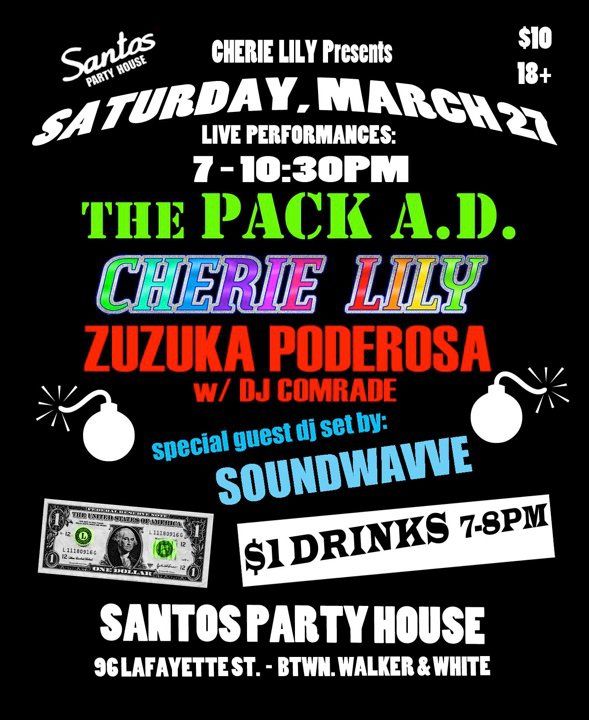 THE PACK A.D.

is a no-holds barred garage-rock-blues cage match played out between two dynamic young females from East Vancouver, CANADA. The Pack A.D. are known for their explosive live performances and the ability to generate a massive sound that is fierce, unapologetic, and gets everyone in the club moving! Get ready to be completely WOW-ed by these two ladies, especially since their upcoming third album release, We Kill Computers, is sure to generate an extraordinarily bombastic performance from The Pack A.D on Saturday!


ZUZUKA PODEROSA

will get the crowd jumping and pumped with Brazilian/Brooklyn Baile-Funk with her amazing partner in crime DJ COMRADE on the turn-tables. This duo completely kill everyone on the dance floor and will leave you bouncing like never before. Zuzuka's voice and presence are 100% hypnotic and the energy is through the roof!

CHERIE LILY

will be getting you sweaty and throwing down with her signature HOUSEROBICS moves and original songs to feel the burn. And on 3/27 Cherie Lily will be featuring a special guest performance with New York's own hip hop/dance group SOUNDWAVVE, who's innovative beats take the energy up to a whole other level!

Plus the unstoppable electro-pop/ghettotech sounds of DJ

Soundwavve

.
Courtesy BrooklynVegan