When the promotional duo
FIXED
sets up shop at Santos Party House, what occurs are some of the most unspeakably raucous parties New York City has ever witnessed. Those who were misfortunate enough to miss their Basement Jaxx or Boys Noize nights have hopefully overcome the guilt and shame, and will now have a chance to redeem themselves to their dancing shoes. Resident FIXED DJ's Josh Houtkin and Dave Pianka are insidious masterminds of programming and promotion with knowledge of dancefloor dynamics unmatched by any other team in the metropolis. With a couple ill one-offs and a residency in the works for Santos Party House, they have hitched (fixed?) their star to the city's most noted soundsystem.
March 16th with AEROPLANE (Belgium) and Blondes (NYC) live
10PM doors, 21+TICKETS AVAILABLE HERE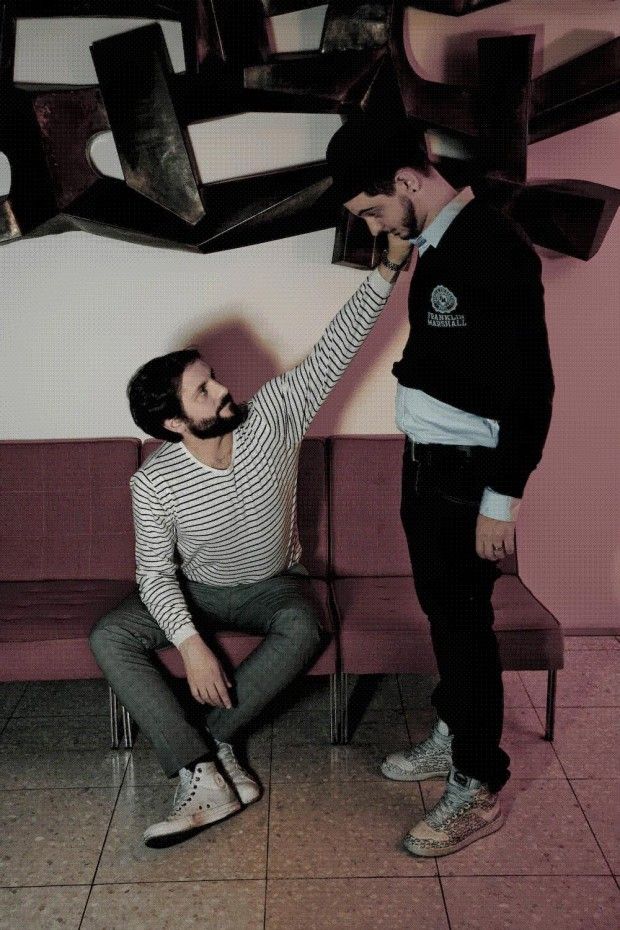 AEROPLANE
Javelo, the Brussels-raised duo consisting of Stephen Fasano & Vito De Luca, were burning along nicely in Europe, their production grace shining on numerous 12" most notably "Spleen" and their famous remix of Thomas Sari's "Tom Hustler." But they were dissatisfied that their lifelong dedication to multi-instrumentalism had not taken a more prominent role. So they regrouped in 2007, naming themselves
Aeroplane
as a dig against the bass-obsessed electro scene and as a statement that airy, spaced-out composition was to be the key element of their sound.
Continuing their 12" spree, Aeroplane unleashed charting original jams, like the brutally infectious disco-psych smash "Pacific Air Race," as well as heavily rotated official remixes for Grace Jones, MGMT and Sebastien Tellier to name a few. Their DJ sets are as seamlessly arranged as their tracks, blending in the best of house and electro with the more esoteric feels of balaeric, italo and trance. MixMag named them the #1 breakthrough of 2009, and they have become highly demanded festival acts, appearing at the gigantic European Creamfield and Parklife gatherings.
"
Brazil (Aeroplane Remix)
" - Doves (c/o
Indiecent Music
)
BLONDES
Zach Steinman and Sam Haar started
Blondes
as a way to fill the Oberlin College atmosphere with minimalistic analog electro set to untamed dancegrooves.
XLR8R
predicts, "With a spacey aesthetic and a loose, analog techno sound, their forthcoming EP on Merok will certainly be a hot commodity when it drops in the months ahead."
"
Moondance
" - Blondes (c/o
Grey Gardens
)
March 18th with ANNIE MAC (UK/Ireland)
10PM doors, 21+TICKETS AVAILABLE HERE
Hand-picked from the throbbing Dublin scene,
Annie Mac
Manus' enthusiasm for dance music earned her a position heading publicity at the notorious Shine club, polishing her turntablism skills all the while. She eventually found herself on a number of London's dance radio stations, and finally rocking a worldwide crowd on BBC's Radio One. Her selection and hosting skills are featured on
Annie Mac's Mash Up
, at the high-traffic Friday 7pm slot, as well as the Sunday evening BBC
Switch
show. The British press coyly praises her DJ sets as "rather hectic," filled with high-octane revelry and slick moves, packing out venues like Fabric, Moles and numerous universities.
EVERY THURSDAY starting April 1st: Fixed and Santos present
CANAL RUBBER!
So may it begin. Your new Thursday night routine features rotating cast of the slickest electro artists worldwide, plus
ELI ESCOBAR
spinning clever house, electro and hip-hop bangers free of cover charge. Our first night kicks off with synth punk prodigy
Calvin
Harris
. For the proper bounce, trust Canal Rubber.
4/1 with Calvin Harris
4/8 with SonicC
4/22 The Twelves (Brazil) and Grum (UK)