DANCE.HERE.TOO with JellyBean Benitez
Saturday, March 13 11:00PM 21+
TICKETS AVAILABLE HERE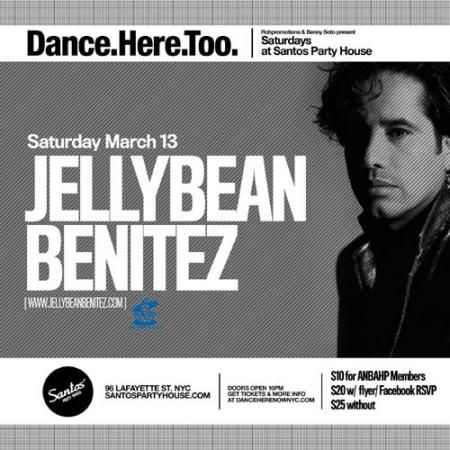 John "Jellybean"
Benitez
is nothing short of a forefather of discotheque selection, a multi-instrumental genius, and a chart-topping producer. After polishing his chops in the post-war South Bronx, he became a resident DJ at Studio 54 and the many genesis points of disco music. By the 80's he was composing and producing artists like Debbie Harry, Sheena Easton, his erstwhile girlfriend
Madonna's first hits
, as well as his own radio favorites "
Sidewalk Talk
" and "The Mexican," which drew from his involvement with the cultures of hip-hop and latin music. Back when the word "re-mix" required a hyphen, he was one of the first to make an art form of retooling other musicians' works. Some of the first official, label-sanctioned remixes were his, rehashing tracks by Afrika Bambaataa, Whitney Houston, The Pointer Sisters, Michael Jackson and Paul McCartney. In 2005 he was inducted into the Dance Music Hall of Fame, and he currently owns and operates his own recording, producing and publishing imprints. His DJ sets betray his eclectic aesthetic, a mixture of deep house, classic disco, hip-hop, latin, electro and pop music, together making for a frenetic experience in dance that is intrinsically New York City.
Jellybean in 1979, talking about "a new kind of DJ; the club DJ."