Mickey Factz with Telephoned, Machinedrum (feat. Jesse Boykins III)
Built by
MeanRed

Thursday, April 1
7:00 PM 18+
TICKETS AVAILABLE HERE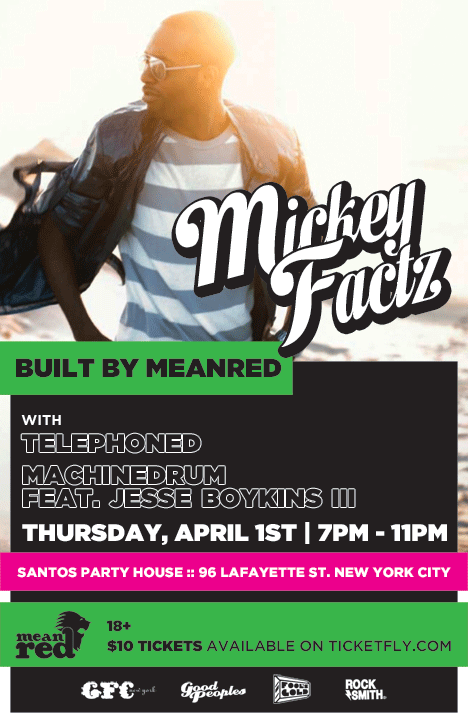 from Facebook




Bronx-born spitter Mickey Factz graced the covers of XXL as a "rapper to watch in '09". But over the year, as his fan base grew, he hung back and kept a low profile. We soon found out that this was a tactical move: On New Year's Day 2010, he dropped an experimental mixtape as the first part of his #Alpha series. The mixtape, called The Dark Pheonix, showcases left-field beats, guests musicians such as Pheonix, and of course, his lyrical double dutch. Unlike a lot of emerging hip hop artists, Mickey's rhymes boast both swagger and intellect. His songs are dense and meaty... a refreshing break from bubble-gum rap that relies on airhorns and "ayyyy's". If Dark Pheonix is an early indicator of the year Mickey is about to have, we're all ears.

On April 1st, he will be joined by hometown heroes Telephoned. This dynamic duo was born one night in Brooklyn when DJ/producer Sammy Bananas (Fool's Gold) and singer/party starter Maggie Horn (Good Peoples) decided to record their own version of T-Pain's "Can't Believe It." Their track was neither remix nor cover - instead, the duo fashioned a postmodern take on both, warping the original beat into a hypnotic club track and bringing out the dreamy qualities only hinted at in Pain's auto-tuned melodies. Whether morphing Ron Browz "Pop Champagne" into a spacey dancefloor gem ("Bottle service electro meets Triplets Of Belleville" says Ms Horn), dubstepping "Turn My Swag On," or re-imagining DJ Webstar's "Dancin On Me" as a BK funky anthem, these Telephoned covers are instantly addictive and massively charming.

Also on deck is Brooklyn-based producer, Machinedrum. He has been crafting beats for the most exciting emerging electro acts in the city, and showcases them through his famous CassetteNYC parties. His style is a mixture of "instrumental hip hop, soul-stylin', vintage synths and rich, structured glitchiness." He is joined by BET's 106th and Park favorite, Jesse Boykins III. This 24-year-old soulster rides the consummate balance between experimental electro-soul and commercial R&B.