Love of Diagrams, Holiday Shores and Japanster liveFriday, April 2nd 20107:00PM 18+
TICKETS HERE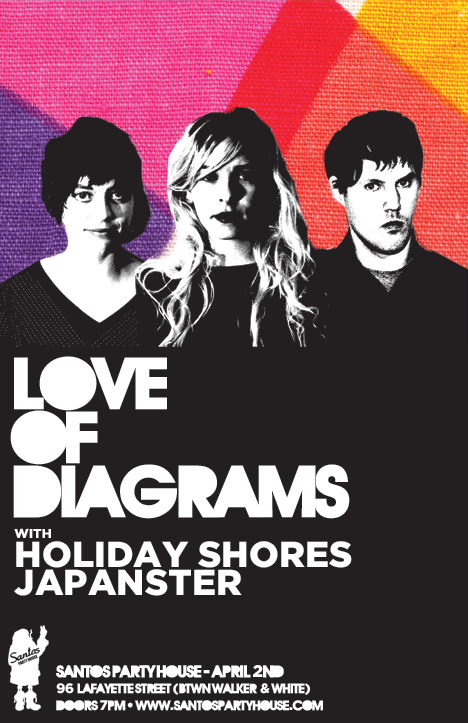 design by Danielle Lobosco
LOVE OF DIAGRAMS
While much of the indie scene has become a rat race for pop hooks and advertisement-friendly pseudo-jingles, Melbourne's Love of Diagrams presents a refreshingly pure and gritty brand of alternative rock that ties unnerving noise textures to pulsating post-punk grooves. While they enjoy flattering comparisons to Sonic Youth, Dinosaur Jr., and Siouxsie and the Banshees, their tendencies towards no-wave repetition give them a groundbreakingly distinct sound.
In 2003, two years after their formation, Love of Diagrams earned their international acclaim with the release of their album The Target Is You, setting them off on a tour-blazing spree. Since then they have played with and supported Death Cab For Cutie, Sonic Youth, Ted Leo and the Pharmacists, Stereolab and Les Savy Fav to name a few. 2007's Mosaic was produced by Bob Weston (Mission of Burma), and their new album Nowhere Forever has been likened to "giddy textural rush that feels like watching a gaseous planet rotate with time-lapsed poignancy" (Mess And Noise). Santos is happy to be square in the path of the most tidal of no-wave.

HOLIDAY SHORES
The jaunty, off-kilter garage pop of Holiday Shores is packaged in layers of windy effects and echoes, creating their own harmonies and overtones as the music marches along. The mixture of demented textures and bright, summery songwriting results in a thrilling, unique performance for the seasoned post-rocker.

JAPANSTER
Electro-rock composer Japanster takes the intensity of the US underground indie scene and fuses it with a European electro aesthetic resulting in a dancefloor-rocking whirlwind of tuneful jams. A prolific remixer and producer, his music rocks body and mind equally.