Sit Down, Man
Release Party!
Das Racist, Maluca, Keepaway and Tecla with Chairlift (DJ), hosted by Dallas Penn
FREE ENTRY
8:00 PM 21+
OPEN BAR 8-9PM
We've been jocking
Das Racist
since way back. Since dormitory ciphers, before Das Racist and Santos were even real things. We've been glad to have them all up in us time after time, and we fully support their mission: hella love for rap music, complete irreverence towards everything else. They've gotten together with some old friends (
Diplo
, the
Mad Decent
crew,
Mishka
, Hima Suri's own
Greedhead Ent
) to put together a new mixtape,
Sit Down, Man
, the follow-up to
Shut Up, Dude
which prompted Pitchfork to declare them "the truth." We will be celebrating the new tape's release on Thursday with a bulletproof lineup of acts and tunes. It's going to be neo-Wild Style up in here.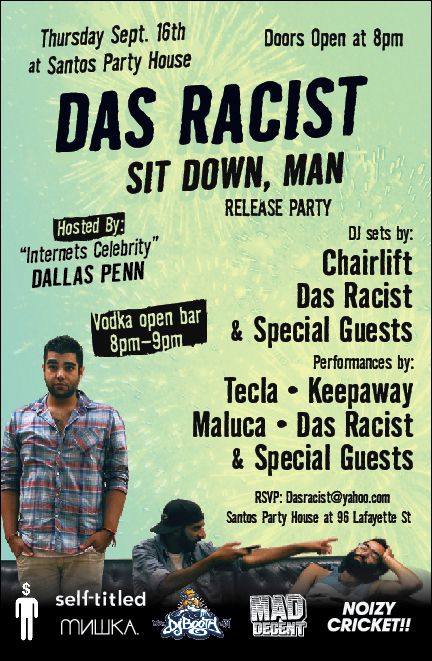 DAS RACIST
Currently the most sought-after force in experimental hip-hop, Das Racist is a trio that eschews any posturing whatsoever in lieu of confronting the truth, however brutal or hilarious it may be, on top of bizarre electro production. Their breakout single "Combination Pizza Hut and Taco Bell" has become rap music's most successful foray into absurdism. But the real meat of their lyrical repertoire are the densely constructed and prophetic commentaries on imperialism in the Gawker era, as well as hilarious multi-syllabic thought trains as unpredictable as the subways for which they are written.

MALUCA
With commercial interests attempting to slip into every crack of culture, Maluca remains as one of the rogues whose identity define her art. She spits saucy vocals and raps over futuristically textured production. Quickly after getting signed to Mad Decent, her single "El Tigeraso" set the indie world ablaze, landing her on the cover of Fader magazine and on stage with with Amanda Blank, Midnight Juggernauts, and Araabmuzik. She is a consider a pioneer of "speed meringue," mixing traditional latin rhythms with the kinetic nature of indie dance.
KEEPAWAY
Keepaway build their songs the way the best hip-hop beats are made, by arranging undeniable grooves and samples into a heady post-pop composition. Their easy-going and approachable attitude buffers their intellectually dense music. The result is something groundbreaking yet reflective of the outsider pop that defines New York.
TECLA
Classically trained pianist Tecla Esposito is as well known for her work with others (like Gordon Voidwell) as she is for her brilliantly produced, snarky and witty electropop. She selects her band members cleverly, often perusing players that are emerging talents in their own right (including Will "Gordon Voidwell" Johnson and Guillermo E. Brown), resulting in seamless, passionate sets.
with DJ sets by
Chairlift
and the DR boys themselves!