Home & Home Tour Afterparty!
with DJ's Alchemist, Just Blaze, Skibeatz and Iron Lyon!
Monday, September 13
11:00 PM 21+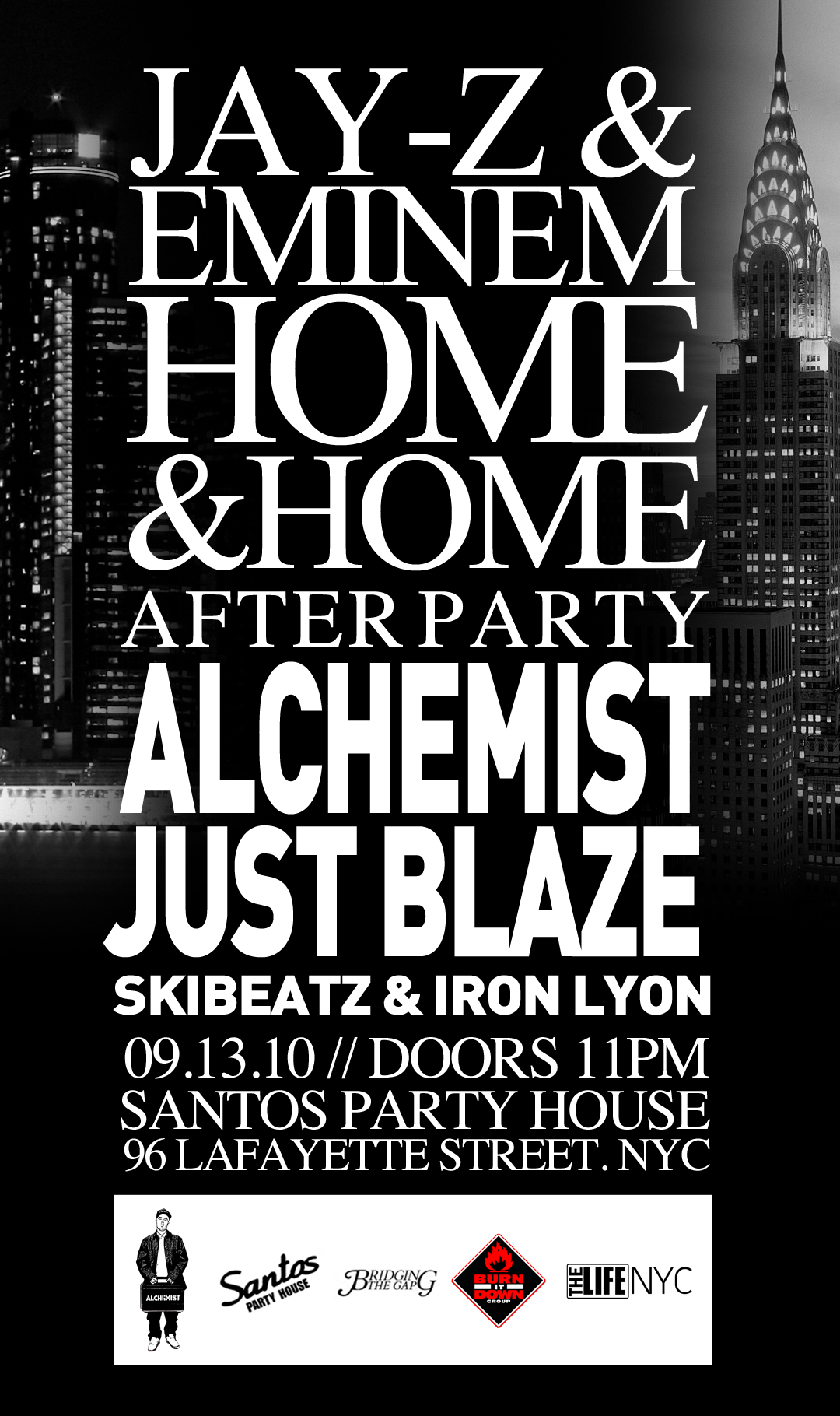 Though the game has a tendency of chewing up and spitting out its most notable talents, two virtuosos of rap music have maintained their jaw-dropping rhyme skills and top positions on the charts. Jay-Z and
Eminem
are celebrating their immortal legacies at their hometown arenas, Comerica Park in Detroit and Yankee Stadium in New York City repectively. Of course, at the end of
Jay-Z
's set is when the night truly begins; from that point on the party moves on down to Santos with an all star cast of DJ's and producers that have worked extensively for these superstars.
Alchemist
laid tracks for Eminem's
The Re-Up
compilation and has been his tour DJ for the recent gigs.
Just Blaze
produced 3 tracks on Eminem's chart-topping Recovery, and has produced a slew of hits for Jay-Z including "The R.O.C.," "Girls Girls Girls," "Public Service Announcement" and "Show Me What You Got."
Skibeatz
is a golden era legend who is making waves in the scene with his new project Skibeatz & The Senseis. He is well known for producing "Dead Presidents (pt 2)" on Jay-Z's classic
Reasonable Doubt
. DJ
Iron Lyon
is a master turntable technician with an ear for chilled out breakbeat production and East Coast style MC. His new full-length album Time Capsule featuring guest appearances by C-Rayz Walz, Vordul Mega, and Craig G.
Brought to us by Alchemist, DD172's Bridging The Gap (every Monday at Santos!), The Burnitdown Group and The Life NYC.