Every Tuesday (starts September 7)
EMERGENCY PARTY
11:00PM 21+
FREE
Resident DJ's: Lizzi Bougatsos, Brian Degraw, Tim Barber, Nick Relph, Spencer Sweeney, Andrew Kuo
MC's: Telfare, Shayne, Allan (The Legend)
Hosts: Rob Pruitt, Gavin Brown, and Parinaz Mogadassi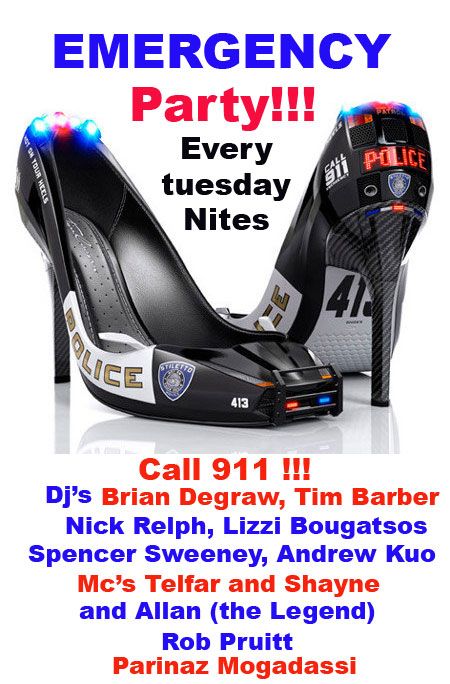 Spencer Sweeney
and
Andrew Kuo
, both multi-instrumentalists and visual artists, represent a scene of culturally ravenous artists and individuals whose uncompromisingly creative vision is the lifeblood of New York City's downtown. The two have gathered their circle of creatives to essentially resurrect the cult favorite residency Sessions at Santa's and expand its vision, resulting in a new social experiment dedicated to freedom entitled EMERGENCY PARTY.
At the helm of the roster of residents are
Lizzi Bouagatsos
(IUD) and
Brian Degraw
(Smiths Night), also of
Gang Gang Dance
, throwing down unpredictable sets. Also confirmed are DJ's
Tim Barber
,
Nick Relph, Rachel Chandler
, Sweeney and Kuo will be hitting the decks themselves, and in the house will be MC's Telfar, Shayne, Allan (The Legend). "Freedom Jams" are the name of the game, and the mammoth upstairs system at Santos will be blasting tunes to expand the mind and coax the will to dance. The party will also feature guest appearances, live sets, pop-up art sessions and oddball curators on a weekly basis. Weird is back with a vengeance.