Thee Oh Sees live with Sex Beet, Happy Birthday and Fergus & Geronimo
Tuesday, September 21
7:00 PM 18+
TICKETS HERE
(Other Music: 15 East 4th St, New York, NY 10013)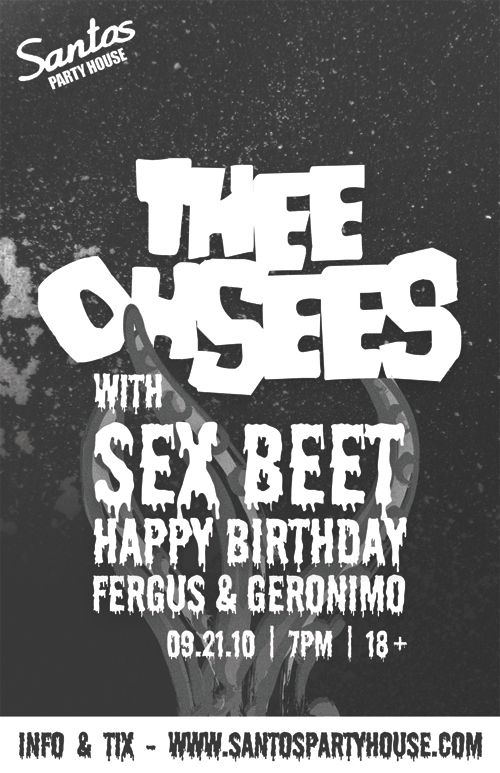 THEE OH SEES
John Dwyer had established himself as aleader in Providence's underground rock scene by the time he moved to San Francisco in the late 90's to front and play guitar for several more bands. His resume includes cult Frisco outfits like Pink and Brown, Coachwhips, and The Hospitals, stretching back to include Rhode Island favorites Landed. Thee Oh Sees was created as his solo project, yet another outlet for his relentless productivity, but ended up becoming his most well known and prolific project. Over the project's 13 year existence it has expanded into a full quartet with a furious, noise-punk sensibility reigned in by tight songwriting. Their 2010 LP Warm Slime, latest in a discography boasting about 24 releases, was produced by Chris Woodhouse (Erase Eratta, FM Knives).
SEX BEET
Backed by Vice, Neu Magazine, and the blogosphere, London's Sex Beet are a natural remedy for indie rock's withering libido. Their songs are raw garage punk jams heavy on surf riffs and jagged synths. The Weareinvolvedblog called them "the perfect soundtrack for a modern beer fueled beach party." With tracks like "Nice Hair/Nice Titties," Sex Beet make charged rock for the vegetably active.
HAPPY BIRTHDAY
Happy Birthday are an emerging talent thanks to delicately arranged vintage garage-pop tunes mixed with post-punk riffs and songwriting. Originally formed as a one-off performance, they were signed to Sub Pop a few months after independently releasing their first LP.
FERGUS & GERONIMO
The duo of Andrew Savage and Jason Kelly are members of Teenage Cool Kids, and formed Fergus & Geronimo as an off-shoot. Their music encapsulates the competing sounds of the 50's, namely soul music and garage rock. Initial leaks made waves in the Texas indie scene, and they released three singles in 2009 all to critical praise. They have plaid alongside Wild Beasts, Tyvek, Wavves and Harlem. Stereogum, Fader, and BrooklynVegan have all fallen in love with their Motown influenced sound.