Efterklang, Buke & Gass, Xylos, and Arpline live!
Friday, October 1
7:00 PM ALL AGES
TICKETS AVAILABLE HERE
Enter code "ModernDrift" and save $2! EXPIRES 9/24 6pm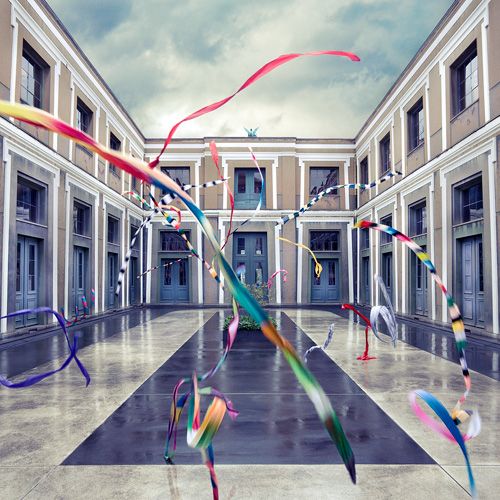 EFTERKLANG
Copenhagen natives Efterklang create alternative pop with an epic, spacious scope. Harmonically ambitious, the songs contain nods towards minimalism and choral music, all while remaining catchy and infectious. They are one of Denmark's most prominent musical acts, and their critically acclaimed sophomore LP Parades (released on the bands own Rumraket imprint) was performed live with The Danish National Chamber Orchestra. In 2010 they released Magic Chairs (4AD) to critical praise; the Guardian says, "It's emotional music, full of subtle ­tension and lurking drama."

BUKE & GASS
The huge sound of this Brooklyn duo is thanks to the two homemade stringed instruments (the Buke and the Gass) that are their namesake. The sound reflects their very analogue inventiveness, driving and unpredictable with a bluesy, classic psychedelic tendency and soaring harmonized vocals. The Village Voice declares that their debut album Riposte "manages to recreate the cyclone of activity involved in watching these two mad scientists do their decidedly one-of-a-kind thing."

XYLOS
Xylos is a pop ensemble that plays full, bright arrangements that move from twee to shoegaze to electronica, a style that sways from jarring to jocular. Their debut EP Bedrooms was produced by Britt Myers, who has run the boards for Chairlift and Yeasayer.

ARPLINE
As quickly as they lull you with nebular synth textures and evocative lyrics, they shatter the comfort zone with off-kilter rhythms. ArpLine earns their psychedelia stripes bravely pushing the limits of intellectual pop. They have played alongside Bear In Heaven, Electric Tickle Machine, Oh No Ono, and Dinowalrus. Glide Magazine called their 2010 album Travel Book "your electronica-pop soundtrack to the summer."


Tickets available at:

OTHER MUSIC
15 East 4th St
New York, NY 10003