Last Wednesday, Kylesa stopped in along with Rosetta, Rosetta and East of The Wall. The following ensued, as documented by
BrooklynVegan's Samantha Marble
_
_____________________________
BEFORE YOU MOVE ON:
Kool Herc, father of hip-hop, is very sick
, has recently recovered from emergency procedures, and is lacking the funds to cover his medical bills. Hip-hoppers worldwide are doing what we can to raise money and awareness. Back in '72, Herc pioneered looping a part of a track to create an extended break, a sonic atmosphere in which breakdancing and rapping could come into existence and flourish. According to
DJ Premier
, here's how to donate:
KOOL HERC PRODUCTIONS
P.O. BOX 20472
HUNTINGTON STATION , NY 11746

or you can wire you donation internationally via paypal to this address:
Peter Bjorn & John stopped by with their forthcoming album in the form of a live performance, making hard to rip and leak on a blog or to a girl you like, but easy to enjoy nevertheless.
Spin did a nice little write-up
detailing the strengths of this trio's finely polished performance with photos by Kyle Dean Reinford.
Gimme Some
drops March 29 and we give it our full-hearted endorsement.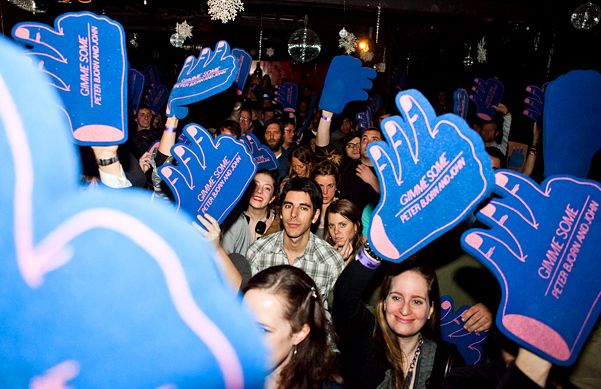 _________________________
Andrew W.K. sat down with Asylum
not too long ago, and discussed numerous topics including zombies, food, and the bizarre discotheque that he calls home.
The interior of Andrew W.K.'s rock and dance club Santos Party House, just south of Houston Street in Manhattan, is black.

Totally black.

It is designed, W.K. says, to literally resemble outer space, so that the walls cannot be seen by the naked eye before you smash into them.

The speakers inside Santos are ludicrous too. There are dozens of them, and they are everywhere. They look like space ship rocket boosters. They all work, incidentally. And they are

loud

.

Essentially Santos is a blank party canvas. A sheet of black paper on which to bleed, puke and sweat, to taste. It is precisely the kind of place Andrew W.K. should call home. The kind of place that Toys R'Us would sell as a playset to accompany an Andrew W.K. action figure (which, by the way, does exist).