Somebody Arted In Here! -
"Basement Bacchanal" unveiling and launch party
with additional pieces by Lizzi Bougatsos and Rita Ackermann
DJ's Peter Doig, Brian Degraw (w/ live instruments), Thomas Bullock, Spencer Sweeney
Saturday, February 26, 2011
11:00pm 21+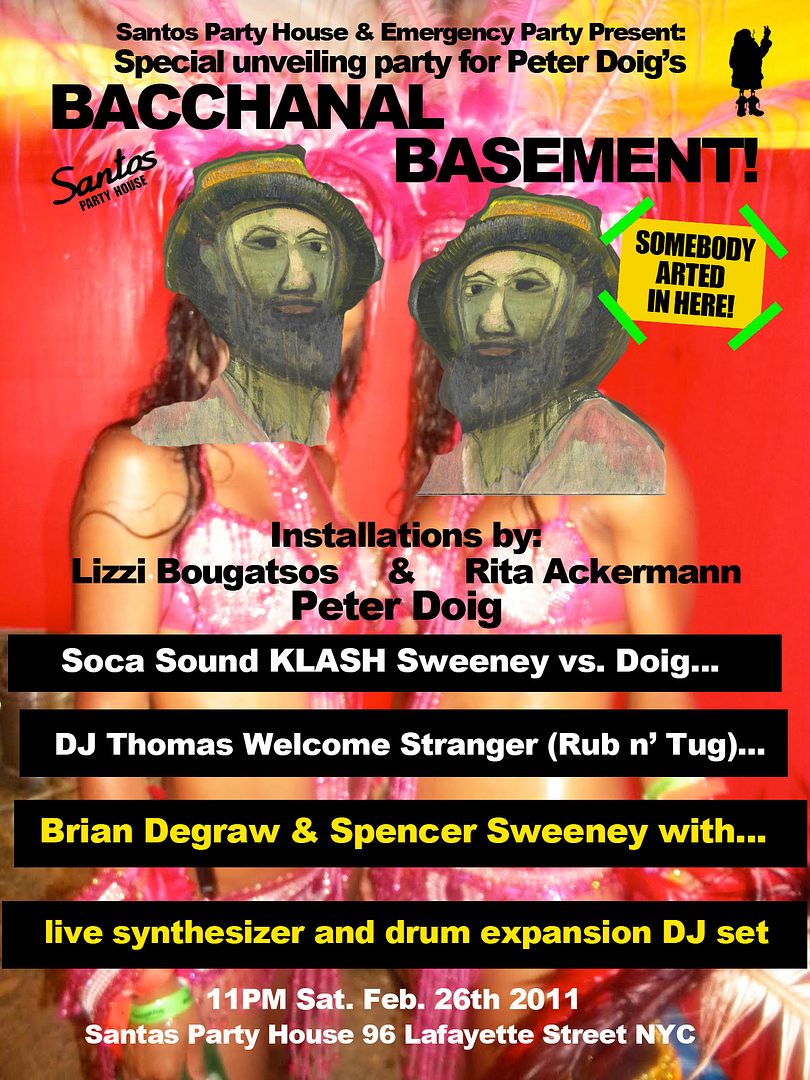 The Emergency Party produces a rotating art installation series
which will open on February 26, 2011.



(New York - February 10, 2011) - While many people associate Santos Party House with late-night dancing, the best live shows, and co-owner Andrew W.K., the venue quests for creative domination in more ways thanvonly music, the most recent of which is turning the venue into a canvas for some of the most forward-thinking luminaries in the visual arts. "Somebody Arted In Here!" is an ongoing rotation of diverse art installations.

Each visual event will be accompanied by a late-night rager, a party complimenting the theme of each unique art piece in an idiosyncratic way. The first event in the series showcases world-renowned artist Peter Doig, who will take over the Santos South Pole (downstairs), while Lizzi Bougatsos of Gang Gang Dance, and artist Rita Ackermann transform our massive storefront windows with their own custom installation pieces.

"Somebody Arted In Here!" -- Spencer Sweeney, one of the founding owners of Santos Party House and an art visionary in his own right, will lead a series of legends and emerging icons as they push the venue beyond its limits, converting the nightclub into a full-on optical playground. Santos is grateful for the tremendous support of our partners, including Gavin Brown's Enterprise, White Columns, The Social Registry, and Leg Up Management. Sweeney's aim is for the art displayed at Santos to reflect the spirit of creative freedom that is associated with the club. "Somebody Arted In Here!" is the next evolutionary step for Spencer's ongoing vision of a living art statement - a tradition he began with a weekly underground party called "Sessions" in Santos' downstairs space. This series eventually mutated into the "Emergency Party," Sweeney's legendary late night DJ dance party produced in tandem with some of New York's most innovative visual and conceptual artists.

With the maiden installation of "Somebody Arted In Here!," Sweeney extends an invitation to painter Peter Doig, a native Scotsman raised in Trinidad and Canada. His exclusive installation for Santos Party House is entitled "Basement Bacchanal" and is influenced by Caribbean wall treatments. The piece will be divided into sections according to the placement of the Santos cinder-block walls. Doig will also be DJing at the launch party on February 26 at 11pm, alongside Brian Degraw of Gang Gang Dance, Thomas Bullock of A.R.E. Weapons and Rub N Tug, and Sweeney himself, with DJ Harvey manning the upstairs level.

Peter Doig's otherworldly paintings have been exhibited internationally at major institutions to great acclaim. He is one of the most sought after contemporary artists (with paintings fetching auction prices of over 10 million dollars). Santos is pleased to have Doig on board for the first iteration of this new artist project. To commemorate the 'Bacchanal Basement," Doig will be compiling a limited-edition Soca mixtape CD with his own cover art design, that will be distributed, free of charge, to the first 300 launch party attendees.


"Somebody Arted In Here!" is a convergence of visual art, music, and movement, as executed by the most innovative and capable minds in those fields. New York City thrives on the creative energy of these individuals, and Santos Party House is proud to give their work a living and breathing home - something beyond, beneath, and besides a museum or traditional gallery. In addition to his work at Santos, Spencer Sweeney is currently presenting the ongoing installation "The Museum of Spencer Sweeney" at Gavin Brown's Pantyhose in New York.