reOPENed Grand Finale!
special guest DJ's A-Trak, Clark Kent, DJ Premier, Evil Dee, Stretch Armstrong and Tony Touch
with residents Just Blaze, DJ Soul, DJ Gravy, Max Glazer (Federation Sound) and Micro Don
Friday, February 25, 2011
11:00 PM 21+
$10 before midnight, $20 after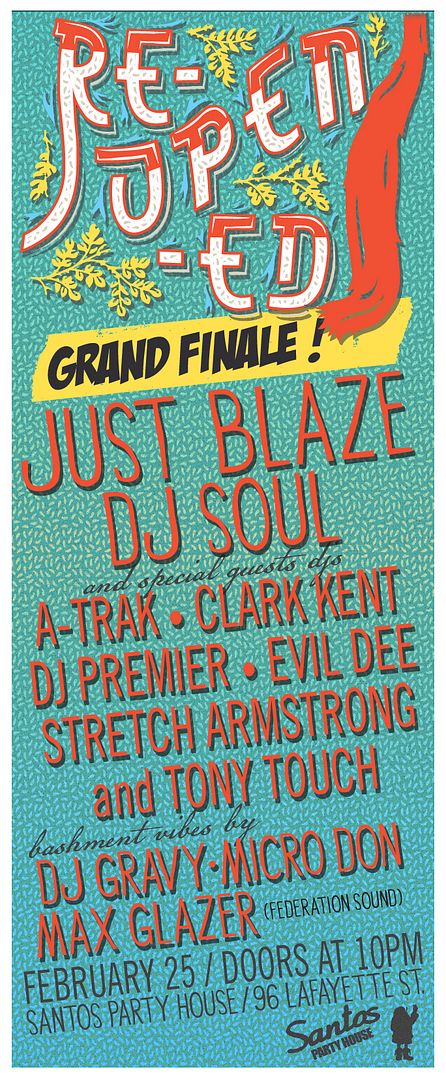 Immortal memories were made at
reOPENed
. Wild, unpredictable, unspeakable and mesmerizing things occurred under these epileptic lights and juggernaut speakers. It's true that all good things must come to an end, but all great things must end in an explosion. A handful of the people that have made New York City such an incredible place for music will be assisting reOPENed's platinum-selling producer residents. A-Trak, Clark Kent, Dje Premier, Evil Dee, Stretch Armstong and Tony Touch will join the normal line-up of superproducer Just Blaze, DJ Soul, DJ Gravy, Federation Sound's Max Glazer, and MC Micro Don. This invincible line-up of beatmakers, remixers and selecters will carry us off into even bigger and brighter things. You'd think the story's over but it's ready to begin.
Party bio:
Dubbed "Best DJ Night" at Paper Magazine's 4th Annual Nightlife Awards and nominated again this year [
Best Party and Best DJ: Just Blaze and Max Glazer
], reOPENed has earned the reputation for being the most important Friday night in the Five Boroughs for the masses to get down. From movie stars to breakdancers to workplace warriors of every collar, the crowd is a beautiful and authentic representation of New York City's soul, and the music is engineered accordingly.
Upstairs is
JUST BLAZE
, the multi-platinum producer and remixer who has laid tracks for Eminem's current release, Jay-Z, Busta Rhymes, Beastie Boys, Mariah Carey, MF DOOM, Janet Jackson, Jay Electronica, Kanye West and many more. While his sets do feature plenty of classic hip-hop, less obviously he makes liberal use of house music, soul classics, electronic disco, and just about anything with a serious beat.
DJ SOUL
is at his side, stepping it up with some ecclectic selections adored by his crowd of music moguls and celebrites.
Meanwhile,
DJ GRAVY
,
MAX GLAZER
and
MICRO DON
establish the Friday night headquarters of Caribbean grooves in our downstairs level, spinning dancehall, soca, as well as classic reggae and reggaetronica. Max's track "Whine" with Jamaica's undisputed #1 artist, Vybz Kartel, is currently enjoying spins on Hot 97 while Gravy is effortlessly connecting the dots of global pop culture as founder and publisher of Largeup.com, the web's premier Caribbean Lifestyle site hosted on Questlove's Okayplayer.com. He also has a new mixtape called "Forever Summer" dropping soon.