Greenshoelace.com
,
Scion
and
The Musebox

Streetlab, The Hush Now, Bottle Up & Go and Das Racist (DJ)
Wednesday, April 14
7:00 PM 18+

RSVP HERE FOR FREE ENTRY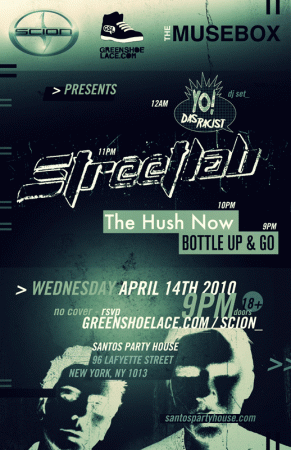 STREETLAB
Fans of rock and dance music alike have New York City duo Streetlab to thank for creating catchy and danceable versions of some of their favorite tunes. Since 2001, friends Mark "Cosmo" Lamorg and Ryan Leary have been exploring the pastiche between classic rock tunes and their rump-shaking potential with an irresistible formula for electronic remixes. After years of re-inventing popular tracks such as
The Rolling Stones' "Gimme Shelter"
and
Creedence Clearwater Revival's "Fortunate Son"
the pair began venturing into writing original material, including "
NYSound
," a single that has generated a multi-faceted degree of buzz and coverage since its 2008 release. Since gaining the support of various top-notch radio DJs and record labels, and receiving praise from media outlets from the likes of
Billboard Magazine
and
URB.com
, Streetlab is gearing up to release its full-length debut, slated for an April 2010 release. (Official bio)
THE HUSH NOW
Treading the line between dusty early 90's indie and the melancholy pop of the oughts, The Hush Now achieve the artisanship that puts them heads above their peers. They garnered widespread media attention when they released their David Newton-produced EP online before playing a single live show. Their Boston brewed sound is a refreshing diversion for the New York underground.
BOTTLE UP & GO
Slide guitar – hell yes. The brash two-piece garage outfit is becoming quite a sensation in Brooklyn, Middletown, and nearby galaxies. A smooth, powerful voice, well-articulated riffs and jackhammer drums are the hallmarks of their bombastic sound.
DAS RACIST
(DJ SET)
Since emerging out of the ether not more than two years ago, Das Racist have become the most sought-after force in experimental hip-hop. The trio eschews any posturing whatsoever in lieu of confronting the truth, however brutal or bizarre it may be, on top of off-kilter electro production. Their breakout single "Combination Pizza Hut and Taco Bell" has become rap music's most successful foray into absurdism, but the real meat of their lyrical repertoire are the densely constructed prophetic commentaries on globalization-era oppression, as well as hilarious multi-syllabic throught trains as unpredictable as the subways on which they were written.
____________________________________
718 SESSIONS FEATURED ON VIMBY
This isn't exactly brand new, but it's no less educational.