There are certain living geniuses whose efforts to stay behind the scenes have proven futile in the information age. This is especially true for someone as prolific and tech-savvy as producer and DJ Justin "Just Blaze" Smith, whose dexterity on decks can make a break sound like it was meant to be sampled, or live arrangements sound cohesively hip-hop. Like Quincy Jones and DJ Premier, he belongs to a lineage of luminary producers whose involvement in any creative project will immediately garner attention from the musically inclined. That buzz has been instrumental in launching the careers of now marquee acts like Saigon, Freeway, Jay Electronica, Kidz In The Hall, and invigorating reigning stars like Jay-Z, Beastie Boys, DOOM, and Mariah Carey. He is also a Friday night resident at dancer's oasis Santos Party House, headlining the Friday REOPENED residency with hip-hop comptroller DJ Soul, Caribbean mixtape virtuoso DJ Gravy, reggae sound splicer Max Glazer (also Rihanna's tour DJ), and one-man party crew Micro Don.


Perhaps the most-talked about collaboration in the music press right now is
Just's involvement in Eminem's
Relapse 2
, about which he told
MTV
, "The wordplay is crazy, the metaphors are crazy. [Em]'s really back on his game. He had his ups, he had his downs, he's back way, way, way up." Detroit battle jester cum media giant Eminem asserted his commitment to verbal wizardry on
Relapse
, and has also recruited Dr. Dre and The Alchemist for tracks on the sequel. Blaze continues, "The fact that he's branched out working with a lot of different people now, collaborating in a lot of different ways that he never has before, I think he's going to surprise a lot of people."
Just was also tapped to officially remix the Daniel Caine Orchestra theme song for the new A-Team movie, dropping in June. The track debuted at REOPENED and received a breakdancing ovation. Blaze has also announced the forthcoming release of a house music 12" through A-Trak's Fool's Gold records.
More intriguing projects involving Just Blaze are confirmed, details on the way. Just remember you heard it here first. Well, you actually probably knew most of this. We just wanted to put it in perspective.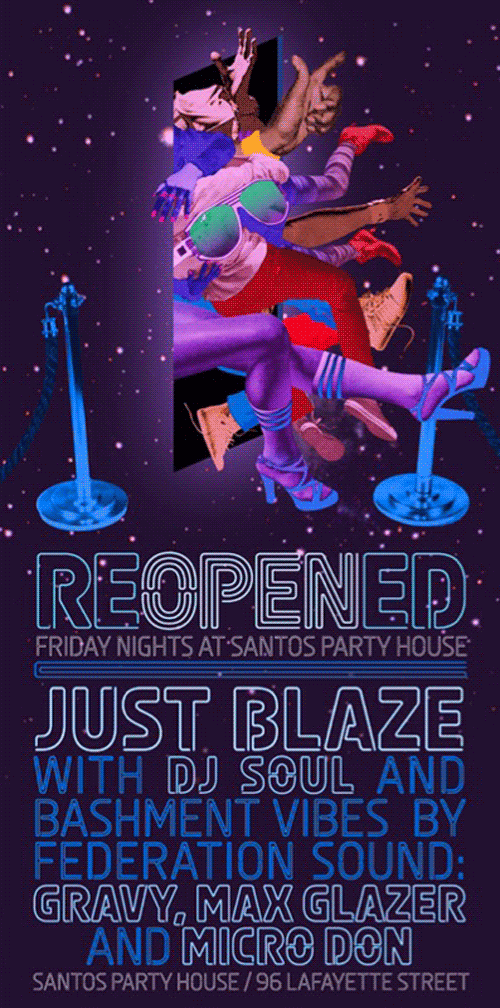 ___________________________________
Yesterday, the news broke that the Yelp.com consumer review site is providing the option to view ratings that have been "filtered" from the pages of businesses. Coincidentally, that was also when I had a call scheduled with one their sales reps who clued me into this development when I asked about the controversy. Yelp is actually a fun and useful site for planning dates and the like. But upon looking at the filtered results for Santos, one might notice that the vast majority of them are perfect 5 star reviews.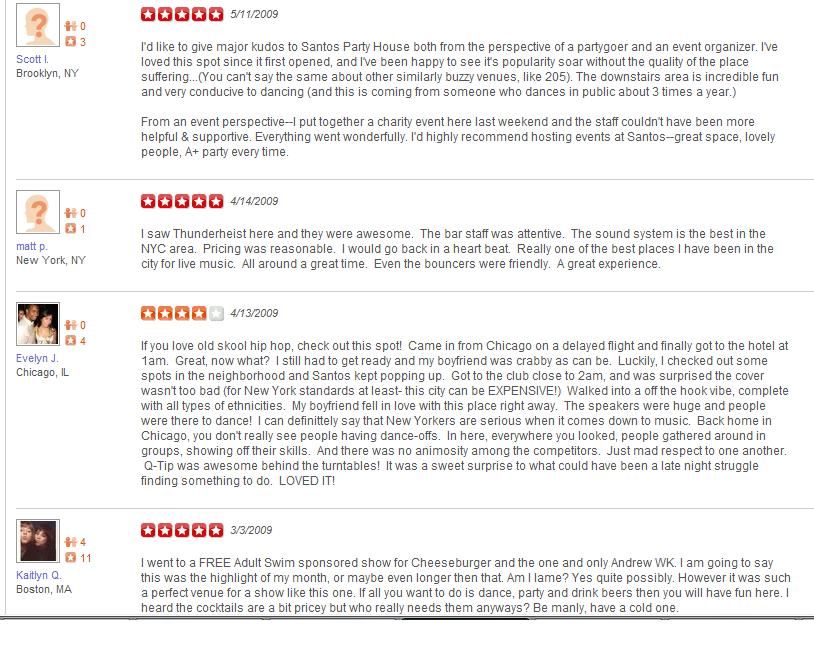 To put it bluntly, Santos Party House has never sent its own employees to write Yelp reviews, though for a while the filter missed a glowing review from our owner's wife. Neither have we campaigned to have our patrons sign up and rate, though it's weird that Yelp seems to not want us to. They won't reveal their algorithm for filtering, but it seems to follow the "no avatar, didn't publish" protocol….
___________________________________

Another gem from Elliot Aronow's Our Show, featuring TV On The Radio's Kyp Malone: